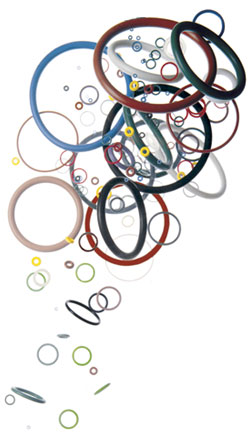 As a leading designer and manufacturer of seals and sealing devices, Apple Rubber offers the industry's broadest range of products to meet your seal requirements. We also have an unparalleled range of services and capabilities, and continually implement new technologies to meet the changing needs of our customers. This combination makes Apple Rubber an exceptional resource for your sealing solutions.
An overview of our products and services follows. As always, if you don't see what you need, give us a call at 1.800.828.7745 or contact us. Experienced, knowledgeable sealing professionals are ready to assist you.
O-Rings
The widest size range of o-rings in the seal industry, including standard AS568 and ISO 3601; most metrics; and a wide variety of non-standard sizes. Available in all common and many special materials and durometers.