Supply Chain Management by Apple Rubber
If you need to cut down on costs associated with your supply chain, outsourcing overseas is rarely a viable option. Relying on low-cost, international vendors is likely to increase your risk of supply chain interruptions. This results in lost time and lost profits. Sourcing your rubber components through Apple Rubber, based in Lancaster, NY, offers you greater quality assurance, reduced lead times, and fewer associated expenses.
You need a stronger link in your supply chain.
Since 1971, the engineers at Apple Rubber have dedicated themselves to overcoming every rubber industry challenge, including domestic and global supply chain disruptions. Our improved in-house operations and reduced outsourcing mean quicker, more reliable deliveries of the products you need. We're able to accomplish this because we understand: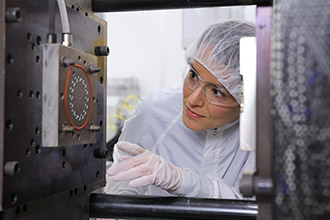 Why quality control is critical to supply chain management
How to conquer supply chain risks
Ways to reduce costs through supply chain management
The benefits of on-demand, in-house tooling
Throughout our 50+ years in manufacturing, we've learned a myriad of ways to mitigate supply chain risks, which we'd like to share. You can read more about reducing costs and delays in your supply chain, the benefits of sourcing domestically, and the importance of quality assurance in our white paper, available here.