Prototyping by Apple Rubber
Prototyping is a foundational step in the process of product development, especially as it applies to custom sized or shaped applications. If carried out properly, this process smooths out the later stages of production, mitigating the risk of scheduling, budgeting, or quality issues.
Realize your vision.
During the prototyping process, Apple Rubber engineers are able to provide immediate feedback on ways to improve designs. They work with you directly to make the entire process as efficient as possible, reviewing CAD drawings and confirming that the correct materials have been selected for your product prior to mold making. Once it's time for production, we use steel to create high tolerance parts that can be used for many more cycles and in greater quantities than the aluminum parts many other companies offer.
Our extensive in-house capabilities, matched with the expertise of our design engineers, are what truly set Apple Rubber apart from other companies. To better facilitate the prototyping process, we provide: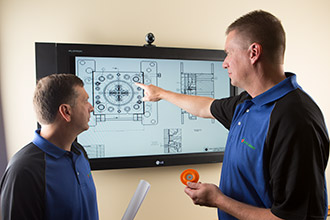 A wide range of compounds, including NBR, silicone, FKM, and more
Custom color matching
Polymer modification for improved resistance to environmental factors like friction and chemical exposure
3D CAD, CAM, and CNC tooling
Steel tools to create high tolerance parts
What we provide to our customers
In addition to these offerings, Apple Rubber is proud to offer the following, all from our US facility:
Over 50 years of industry-specific engineering expertise
Proficiency in polymer science and mold design
In-house Class 10000 ISO-07 Clean Room, LSR, and an extensive o-ring inventory
Assistance across every stage, from concept to seal validation
Quality documentation spanning First Article to full IQOQPQ