Apple Rubber has listed our compound, 30VT7AP, under the Underwriters Laboratories (UL), JMLU2 for Seals and Gaskets. JMLU2 is tested using standard UL-157 for test methods and end-use testing requirements. Compounds typically aren't listed under UL-157 since it is just a standard for testing procedures. 30VT7AP is a high fluorine FKM compound. It provides improved chemical resistance compared to our compound 01VT7EE. Comparison of FKM polymers can be found in our Hot Topic article "Comparison of the Different Grades of FKM Polymers." Higher fluorine content reduces the swell in ethanol which makes it well suited for higher Gasoline/Alcohol blends.  30VT7AP is suitable for UL 87 (A, B, C). UL 87A is for E85 blends. UL 87B is for 100% biodiesel fuels. We also listed this compound for UL 50E for electrical enclosures.  
(Click the below image or above link to view)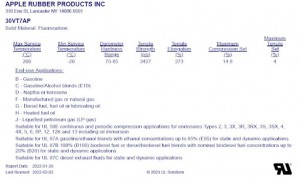 High Fluorine FKM (VT) rubber is perfect for harsh environments for exposure to chemicals, high temperatures, and steam. This compound is a peroxide cured high fluorine polymer which gives better resistance to steam than typical bisphenol cured FKM compounds. Compound 30EP7AP is an FKM based, peroxide-cured, carbon-black-filled compound.
| | | |
| --- | --- | --- |
| Physical Properties | Requirement | Test Results |
| Original Properties | | |
| Durometer (ASTM D2240), Shore A, Pts. | 75 ± 5 | 79 |
| Tensile (ASTM D412), psi, min | 2031 | 3240 |
| Elongation (ASTM D412), %, min | 175 | 274 |
| | | |
| Compression Set (ASTM D395), 22 hours @ 200°C | | |
| Compression, %, max | 25 | 17 |
| | | |
Please note that Apple Rubber does not sell our compounds. We listed this compound in order to use it when molding parts for customers who require such a listing. 30VT7AP can be compression, transfer, and injection molded to meet the volume of parts needed, whether they are prototype parts or full production orders. 
This compound was also developed to provide excellent processing for Rubber Injection. Our Rubber Injection department provides high volume and more economical o-rings, housing seals, u-cups, and grommets.  
Get in touch and let our Project Engineers help you select the best compound for your next application.