Apple Rubber has listed our new compound, 18EP7AP, under the Underwriters Laboratories (UL), JMLU2 for Seals and Gaskets. JMLU2 is tested using standard UL-157 for test methods and end-use testing requirements. Compounds typically aren't listed under UL-157 since it is just a standard for testing procedures. However, 18EP7AP has listings for laundry and dishwashing detergents, ozone, and UL50E without oil contact.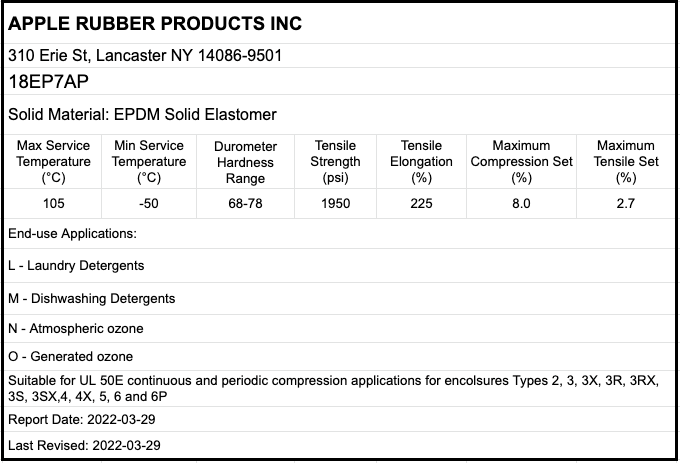 (Note: The above table is a rendering of the listing on UL Product iQ that has been enhanced for visual clarity. To view the online listing for 18EP7AP, please visit UL Product iQ)
Ethylene-Propylene (EP) rubber is perfect for environmental seals, water/water vapor contact, and automobile cooling systems. Compound 18EP7AP is an EPDM based, peroxide-cured, carbon-black-filled compound. We also added UV stabilizers to the formulation so it can handle high doses of UV light exposure. In addition, since it is a peroxide-cured compound, 18EP7AP can handle higher temperatures up to 150° C, and better resistance to steam, acids, and alkalis.
18EP7AP meets the requirements of ASTM D2000 M3DA710A26B36EA14F19.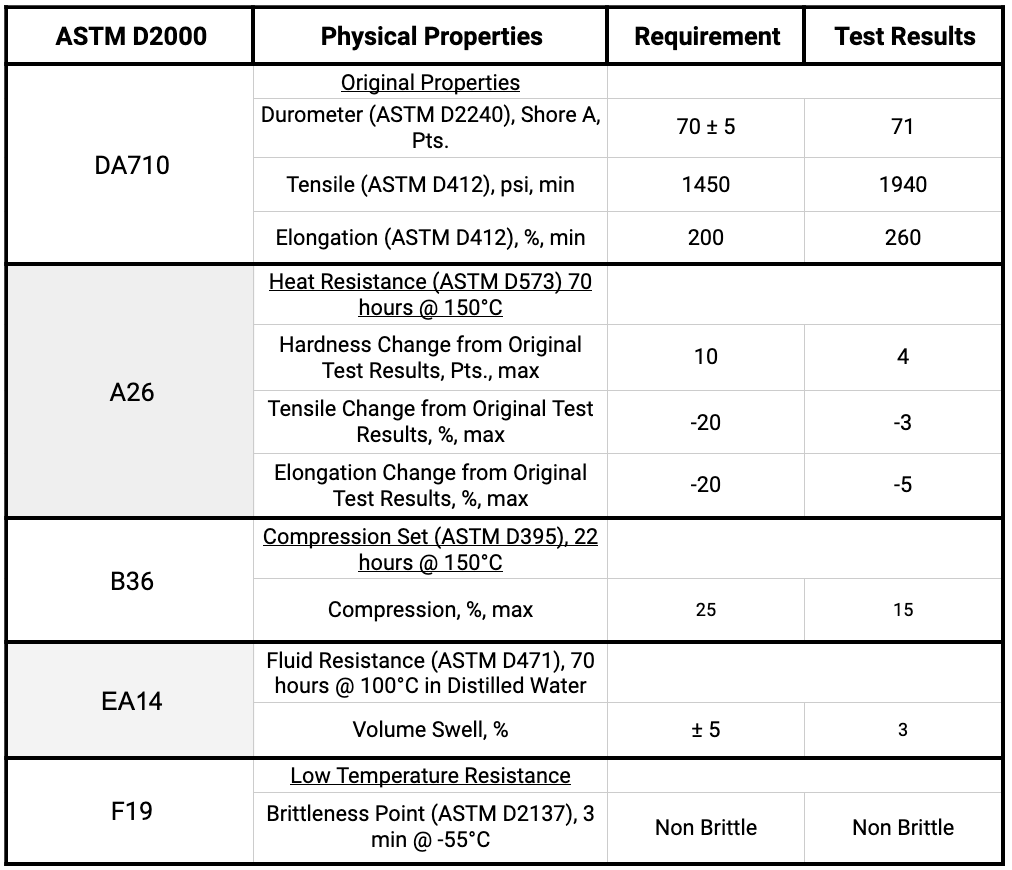 Please note that Apple Rubber does not sell our compounds. We listed this compound in order to use it when molding parts for customers who require such a listing. 18EP7AP can be compression, transfer, and injection molded to meet the volume of parts needed, whether they are prototype parts or full production orders.
18EP7AP has been a standard compound of Apple Rubber's for some time, so we have a vast available inventory of o-rings in multiple sizes made from this compound. Our team has a lot of experience with injection molding complex configurations for housing seals, which is especially useful for UL50E parts.
Get in touch and let our Project Engineers help you select the best compound for your next application.