Apple Rubber receives a number of requests to determine the shelf life of a given rubber part. What are best practices for storing elastomeric seals? How do you properly calculate elastomer age? Unfortunately, the answer to these questions are not so simple.
Shelf Life: The storage period prior to installation of elastomeric seals and seal assemblies into hardware components.
In 1998, the Society of Aerospace Engineers (SAE) issued Aerospace Recommended Practice (ARP)5316. ARP5316 has become the industry standard for the shelf life of aerospace elastomeric seals. However, the standard can also be used as a guideline and recommended practice for the shelf life of rubber seals, gaskets and many industrial and commercial grade elastomers.
History of ARP5316
MIL-STD-1523
After World War II, ANA Bulletin 438 established an effort to impose age control on critical elastomer sealing devices.This resulted in confusion and costly increases to seal procurement. Many programs went on to study age control from these materials – summarized in Air Force report, AFML-TR-67-235.
The study concluded that the overall properties of elastomeric materials improved over a given time, which made age control less restrictive.In 1973, this resulted in MIL-STD-1523, which superseded ANA Bulletin 438. From this document, shelf lives of elastomers procured by government agencies were limited to 12 quarters from the cure date of the seal. In 1984, a new "A" revision was released which extended shelf life from 12 quarters to 40 quarters.
ERPI NP-6608
In 1989, Bruce Boyum and Jerral Rhoads led a new study called Elastomer Shelf Life: Aged Junk or Jewels. This reviewed previous studies and age control document MIL-HDBK-695. The authors concluded that age control had been very conservative and could be extended with proper storage.
In 1994, EPRI NP-6608 concluded that with proper storage, the shelf life of elastomer seals could be 32 years.

AS1933A
Based upon numerous studies, MIL-STD-1523 had been canceled in 1995 without replacement. However, the study left reference to AS1933: Age Controls for Hose Containing Age-Sensitive Elastomeric Materials. This released aerospace elastomers from age control. The study also led to more confusion, since companies still insisted on age control and were still referencing AS1933 or MIL-HDBK-695.
ARP5316
To alleviate some confusion, ARP5316 was created as a recommended practice to address elastomeric seals — as well as offer a control document for companies that require one. The standard includes shelf-life recommendations, need for traceability and proper storage of elastomeric seals.
Shelf Life By Rubber Polymer Type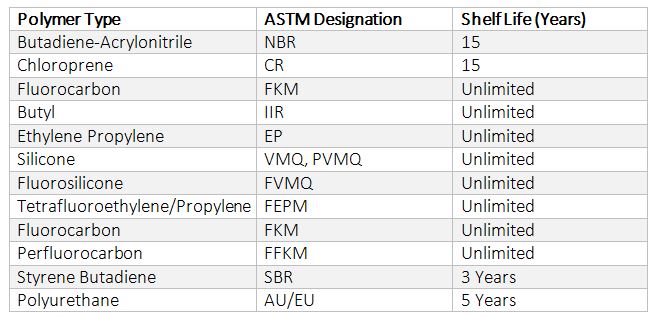 *HNBR, Epichlorohydrin(ECO), Polyacrylate (ACM), Ethylene Acrylic (AEM) can be grouped similar to NBR due to similarities in polymer types.
ARP5316: Recommended Storage Conditions
        Temperature – below 100'F (38'C)
        Humidity – less than 75% (AU/EU less than 65%) if not stored in sealed moisture proof bags
        Light – protected from light sources especially direct sunlight or intense artificial light.
        Ozone – storage rooms shall not contain any equipment that is capable of generating ozone.
Elastomer Shelf-Life: In Summary
As stated in the studies above, rubber seals  have the capability to last long periods of time in storage. Unless compliance regulated, shelf life of all rubber parts should be considered unlimited.
ARP5316 can be a useful guideline for companies who don't have a recommended shelf-life control on elastomeric seals. This guideline also recommends individual packaging, but in our 40 years of being in business, bulk packaging shows no difference over time. Apple Rubber utilizes a calendar quarter for the cure date — meaning the last date of the quarter is considered the manufacturing date. ARP5316 in no way establishes a shelf life for storage of assembled components or operating lifespan. Apple Rubber is looking at ISO 11346 for estimation of life-time use based on compression set, and we will be posting data once our study is completed.
Have any questions or comments on the shelf life of elastomeric compounds? Share your thoughts in the comments below or connect with us on Twitter @AppleRubber.