In December of 2014, we changed the way we interact in the digital and mobile world by rolling out a new and improved website as a part of our brand refresh.
In addition to the new website, we recently developed a new video, too – featuring our history, evolving products, capabilities and who we are as a company.


To put Apple Rubber's timeline into perspective, as well as the innovate changes that have been implemented since inception, we spoke with Account Executive Dan Goehle – one of Apple's first employees.
Apple Rubber History: Timeline at a glance

1971: Peter, Mary, Steven and Rebecca Apple founded Apple Rubber — no, there is no connection to Apple Computers. At this time, the family business strictly resold a small product line from other manufacturers in the U.S. and Asia.
"I was the sixth employee and second non-family member to be hired at Apple Rubber in 1979," says Goehle. "Now, we're up to around 175 employees."
1989: Apple expanded to in-house manufacturing of O-Rings and sealing components. This did not yet include injection molding, cleanroom molding or bonded parts.
"At first, our original vision was to supply quality parts at reasonable prices," notes Goehle. "Over time, our company has come to represent a key player and industry leader in rubber seals."
1993: Apple Rubber added Liquid Silicone Rubber (LSR) to its material selection. Injection and transfer molding allowed for greater speed, efficiency and customization.
2006 – Apple Rubber added its ISO 10,000 Certified Class 7 Cleanroom with full manufacturing facilities and three injection-molding machines.
"Adding our Cleanroom gave our customers confidence that we were committed to medical molding," notes materials manager John Tranquilli, who has been with the company for 19 years. "It reduced any potential for contamination during the molding process."
2015: Today, Apple is a leading designer and manufacturer of sealing devices serving the needs of industries around the globe – in fact, over 50 countries depend on Apple Rubber for its research and manufacturing capabilities.
The majority of Apple's products (from design, to prototype, to production) are all manufactured in the Lancaster, N.Y., facility — giving customers more choices for an American-made product.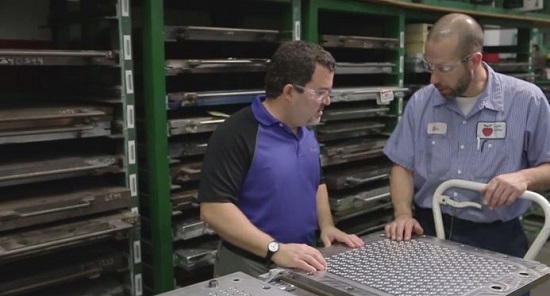 Innovating in every industry
"Where we are today is miles ahead of where we were 44 years ago," Goehle notes. "Since then, we have been increasing the plant size, engineering capabilities, number of employees and state-of-the-art equipment."
Goehle believes that Apple Rubber's new video mirrors the company's international growth and innovation over the last several decades.
"Our new video is a great way to get a quick overview of what we do," he says. "We now have several customers overseas, who may not have the ability to drop in and learn about our company. The video is a great way for anyone – no matter their location – to get a quick synopsis of our capabilities. We can help get our story to far parts of the world."
When asked about the reason for Apple Rubber's success, Goehle gives credit to a great staff and management team.
"We've succeeded because of our great team from management, staff, marketing and advertising," he notes. "We couldn't have done this without our employees. Our new video states that your most important work depends on the strength of your seals – and here at Apple, it's the strength of our employees that drive this company."
Want to learn more? Connect with us on Twitter @AppleRubber or view our new website.