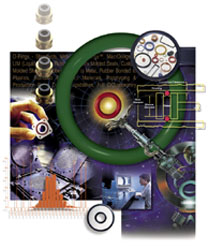 Welcome to the Apple Rubber Blog. Apple Rubber Products Inc. is a leading designer and manufacturer of seals and sealing devices located in Buffalo, NY. We provide sealing solutions for industries worldwide, from automotive and aerospace to pharmaceutical and medical devices.
We have the seal industry's broadest range of products and industry leading capabilities to fulfill any sealing requirement.
Please check here often for important information to help you with your sealing needs. Features of the blog include:
• Product Spotlights: highlighting our best and most popular products
• Technical Literature: providing you with all the information you need for sealing
• Top Stories: featuring Apple Rubber Products top news
• Rules of Thumb: for guidelines of sealing solutions, and
• Ask the Experts: outlining frequently asked questions and Apple Rubber's expert answers and advice.
Stay tuned for news and updates on everything Apple Rubber has to offer!