For employees in the medical field, rubber is an important part of their job. Besides things like gloves and bandages, rubber is often used for medical equipment and devices. In these cases, the performance of the rubber product can literally be the difference between life and death.
Furthermore, advanced medical procedures and treatments have placed rigorous new requirements on medical equipment and devices. Seals and other parts in medical products are now exposed to a wider range of chemical and temperature environments than ever before.
For these reasons, it's important that the rubber products used in medical applications are high quality and high performance. That's where Apple Rubber comes in.
Apple Rubber uses sophisticated technologies and processes to consistently manufacture products that feature improved chemical resistors, excellent heat resistance, and low permeability to gas.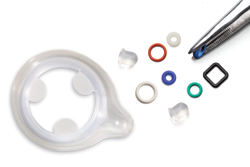 Apple Rubber has the capabilities to make medical seals and parts for the following devices:
O-rings for dialysers
medical pump seals
IV components
feeding devices
implant materials
…and more!
For more information, contact Apple Rubber today.