Earlier this month, Apple Rubber was featured in Medical Design Briefs – a website and blog dedicated to covering the latest medical innovations, industry news and major players in global research and development. Materials manager John Tranquilli had the feature spotlight, where he shared his expertise on the use of industrial-grade rubber for medical seals.
"Too often, industrial samples are used to test form and fit, but there won't be a follow up to find the right medical-grade material," Tranquilli said. "We wanted to put an article together to address this common problem. It's easier to change a material before expensive medical testing is done, so this way we can offer some design insight at the beginning of the process."
Medical seals: Using the right rubber compound
In the article titled, "Why using the right rubber compound is important for medical seals," Tranquilli explains that industrial-grade rubber is used far too often for design work. Since industrial-grade material is more readily available than their medical-grade equivalents, engineers will obtain industrial-grade samples to test design functionality – even though it should require medical-grade material.
Tranquilli touches on several related topics throughout the article:
• Importance of testing prototypes
• Following medical-grade rubber regulations
• Common O-Ring design failures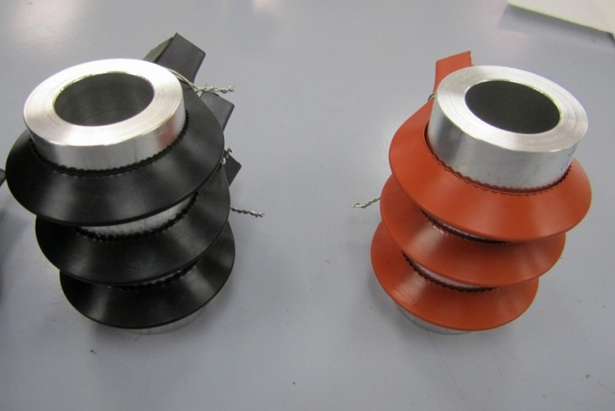 Apple's own practices
Apple Rubber mirrors these practices from the design to execution stage. Engineers take into account all design considerations – especially when it comes to medical-grade parts. With a large percentage of customers coming from the medical industry, the ISO 7 Cleanroom helps Apple meet certification and serve customers to a high satisfaction level.
With the huge benefit of in-house-prototyping, Apple can also focus on custom-engineered prototypes and test a variety of these materials according to customers' needs.
"Due to time crunch, it may be quicker to use industrial-grade materials, but this can lead to defects in the final part – not to mention bring up regulatory problems," said Tranquilli. "It's critical to use the correct seal material and that's something we've always believed in. Taking steps to gather material samples will assure you have a more robust design and a much better experience."
Medical Design Briefs
Medical Design Briefs features exclusive coverage of the latest medical and bio-medical innovations from NASA, its industry partners, and other major players in medical R&D worldwide. From heart pumps and defibrillators to surgical robots, NASA has developed thousands of medical breakthroughs on the way to space.
Articles and product briefs focus on design advances that are shaping the future of healthcare — improving safety and saving lives while reducing costs. Issues report on electronics, sensors, testing, imaging, software, materials, mechanical components, manufacturing/prototyping, and much more.
Have any questions or thoughts to share about material-grade selection? Drop a comment below or connect with us on Twitter @AppleRubber.