A new polymer, Viton ETP®, has been gaining wide acceptance in the sealing industry. If you missed our Hot Topics blog about this chemical-resistant rubber compound, you can read it now.
Some quick notes on Viton ETP®:
The polymer offers excellent resistance to acid, hydrocarbon and low molecular weight esters, ketones and aldehydes
Viton ETP® has inherent resistance to base attack and volume changes in highly caustic solutions, amines and hot water
Low temperature flexibility is a signature of Viton ETP®
Viton ETP® and Chapin International
So what's the big deal? Previously, engineers used expensive materials like FFKM — a compound that's nearly 10 times more expensive than Viton ETP®.
Not only is Viton ETP® more economical, it offers several design improvements, including a greater chemical compatibility to standard FKM grades.
This polymer has changed the game for many companies – including Batavia, N.Y. -based manufacturer Chapin International.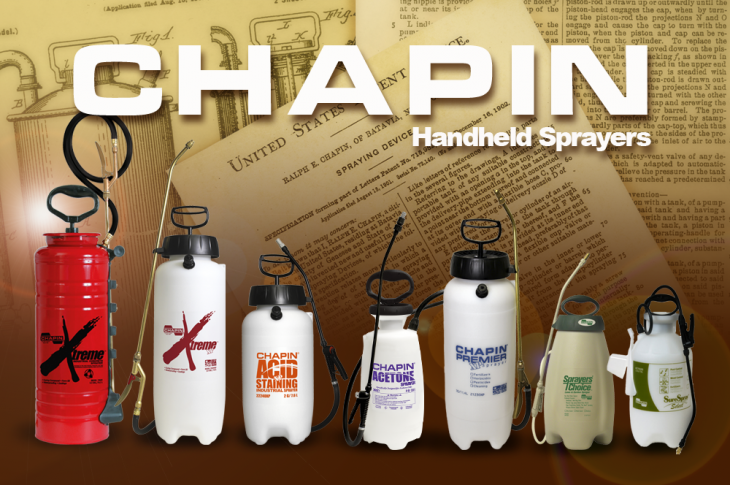 Chapin manufactures  high-quality sprayers for use in a wide range of applications. Chapin's product line includes stainless steel sprayers, polyethylene sprayers, backpack sprayers, hand sprayers, deck and wallpaper sprayers and pest control sprayers, among others.
Chapin uses Viton Extreme seals for their innovative industrial sprayers.  These devices are used to apply concrete cure, sealers, releases and new acetone-based concrete stains.
The change from Viton A to Viton ETP® has improved the product tremendously, according to Chapin engineering tech Bill Bouton.
"With the VOC (volatile organic compounds) laws constantly changing," Bouton notes, "we are challenged to create new industrial sprayers that will hold up to improving service products and environments."
Viton ETP®: Setting a new standard
"Our biggest issue is this — as the VOC laws change, the chemical manufacturers change their products," said Bouton. "With the number of products in the marketplace, it is impossible for us to test them all. This further complicates things for us, so we have to make sure we're on top of things."
Case in point: until recently, the standard Viton A polymer had worked well as a sealant in Chapin's industrial sprayers. But in order to meet new VOC compliance standards, spray manufacturers were required to change to an 80 percent acetone mix, as opposed to the previous 40 percent acetone.
The higher the acetone concentration, the more material that it comes into contact with will swell –- sometimes causing the O-Ring in Chapin's industrial sprayers to fail.
The new Viton ETP, however, has excellent resistance to acetone, even at 100 percent exposure. Now, regardless of the percentage of acetone, Chapin's industrial sprayers can handle the mix.
"Using this product has allowed us to prevent any premature failures in the field," said Bouton. "And if and when the acetone becomes non-compliant, we will work together to come up with the answers to the next challenge."
Below, you can see the selection guide for the chemical resistance of Viton®: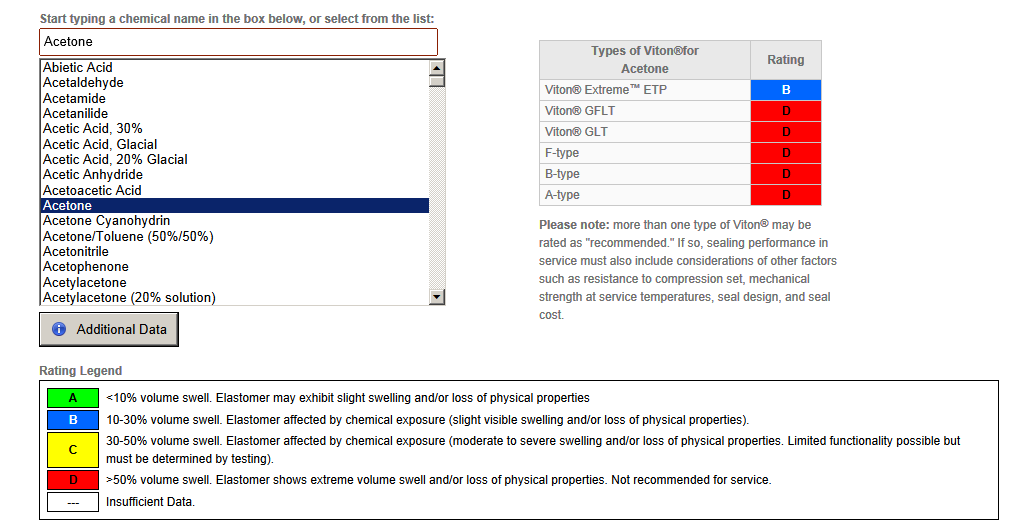 To see all industrial sprayers that Chapin has to offer, visit their product inventory.