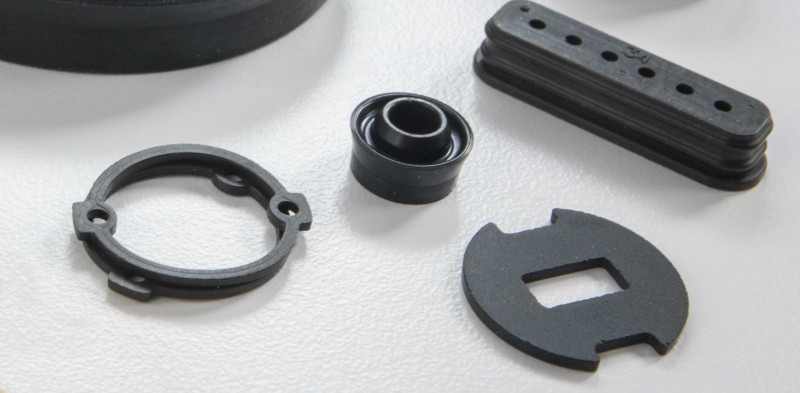 A newer polymer has been gaining more acceptance in the sealing industry to replace expensive materials like FFKM or fluoropolymer while providing greater chemical compatibility to standard FKM grades — Viton ETP®.
See our Lab Report for Viton ETP®.
Two recognized FFKM grades are Dupont's Kalrez™ and Greene Tweed's Chemraz™. A new polymer was designed to give similar chemical resistance of the FFKM polymers, but does not have the same high temperature (+300'C) performance.
Dupont's Viton ETP® fluoroelastomer is a peroxide-cured FKM designed for extreme applications. ETP® gives resistance to fuel, solvents, acids, bases and amines, while also providing a good working temperature range of -25'C to 200'C. Viton ETP® is just a polymer base, so compounding of the rubber still applies. Various filler systems can be used to change hardness and color.
Viton ETP® is on a magnitude of 10 times less expensive than a FFKM compound.
Quick facts on Viton ETP®:
Excellent resistance to acid, hydrocarbon and low molecular weight esters, ketones and aldehydes
Inherent resistance to base attack and volume changes in highly caustic solutions, amines and hot water
Low temperature flexibility (Tg – 10'C)
Apple Rubber currently has a 75 and 90 Shore A durometer. Additional compounds can be developed to meet application needs.
Viton ETP® is a tetra polymer of ethylene, tetrafluoroethylene (TFE) and perfluoromethylvinylether (PMVE). This chain structure is designed to give excellent resistance to base and polar fluids, while retaining good low-temperature flexibility and general fluid resistance comparable to FFKM materials.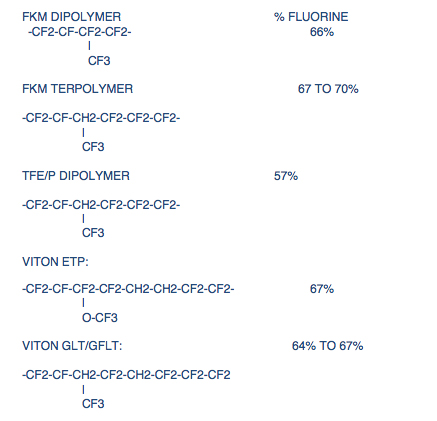 Standard Viton® (Type A, B or GF) polymer structures are susceptible to attack by base and amines fluids. Changes to the structure in ETP® offer non-polar groups that resist attack by base and polar fluids.
Aflas™ also provides base-resistance. The difference? ETP® contains 67 percent fluorine, while Aflas™ (TFE/P) contains only 57 percent. The higher fluorine content gives ETP® the typical high-fluorine performance expected in aromatic and aliphatic hydrocarbons. Aflas™ trades base resistance for lower hydrocarbon resistance.
In the spreadsheet below, we can see comparison test data between Viton A ®, Viton GF®, TFE/P, and Viton ETP®. Another very good industry for this polymer is in the oil field environment. Below is a comparison of ETP® to Viton GF®.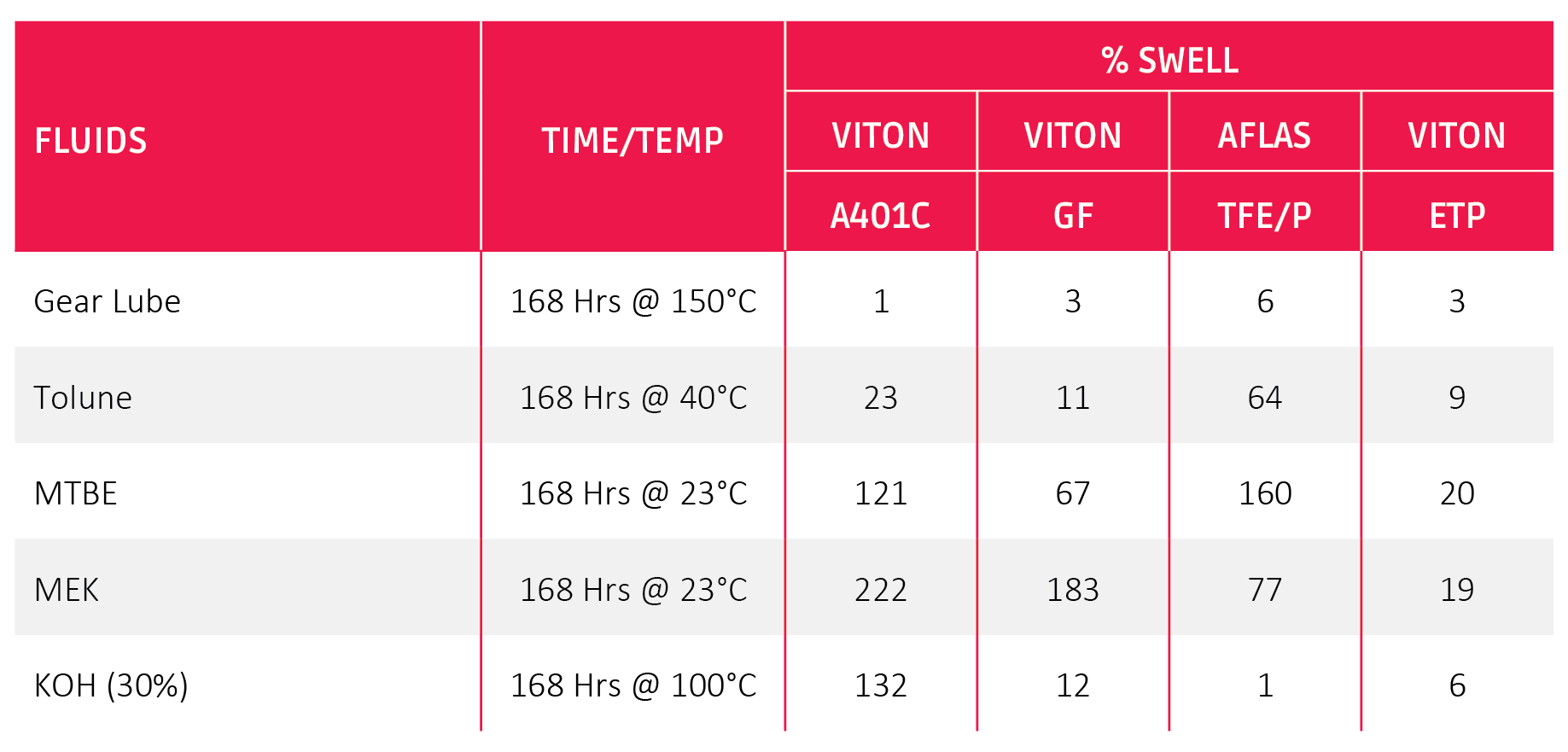 Below are some additional fluid resistance. (% Volume Swell)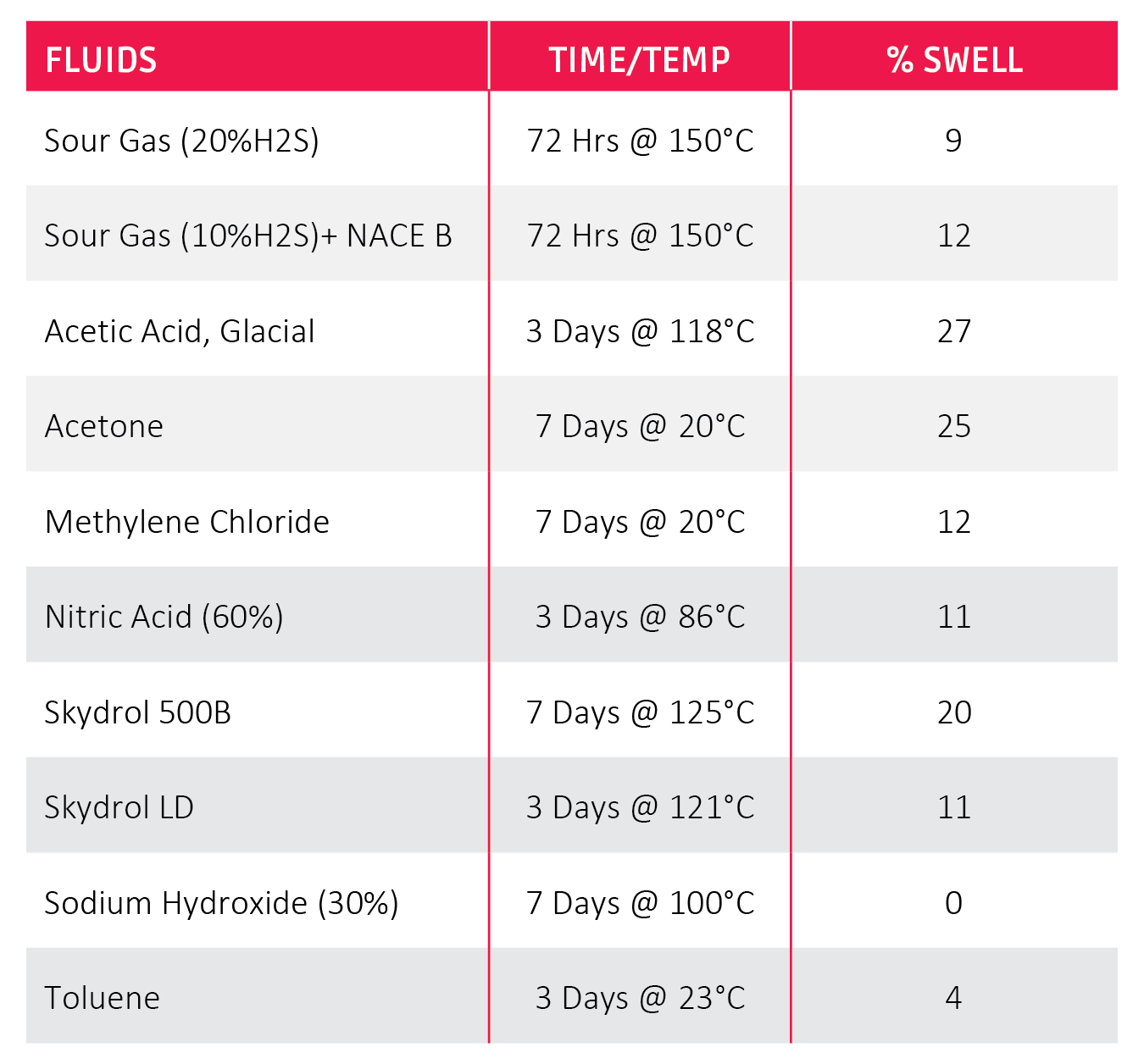 1- Ronald Stevens, "Viton® ETP – A New, Unique Fluoroelastomer With Expanded Fluids Resistance." Paper prepared for Energy Rubber Group Meeting, January 1998.
2 – Chemours Chemical Resistance Guide.