Loretta Ivison approached Apple Rubber with an idea that could change the crafting industry. Our engineers, intrigued by her challenge, set their minds to work on a custom-molded prototype that would allow quilters like Loretta to overcome one of the most tedious parts of the quilting process.
The result? Introducing the Pinmoor – the first and only product of its kind.
Apple innovation: The story behind Pinmoor
In 2005, California native Loretta realized that she needed an easier way to sew quilts. She needed something that would take less time, less labor, and less hassle. And she wasn't alone — there are more than 16 million active quilters in the country. 

"Safety pins are a main component in quilting, but they are cumbersome for those with arthritic hands," she says. "People need an easier way to adhere fabric together, without harming their hands or damaging their quilts during the basting process."
After having surgery on her hand and quilting for nearly 15 years, Ivison suffered from the discomfort, too.
"Traditionally, you need to adhere three different layers of fabric together, and pins are needed so the quilt doesn't shift," Loretta notes. "My idea was to invent something much simpler than a safety pin that would give my hands a rest."
The part, now known as a Pinmoor, is a simple cylinder that would be placed on the opposite side of the sewing pin, as pictured below. Just slide the pin in and stick the sharp end to a Pinmoor.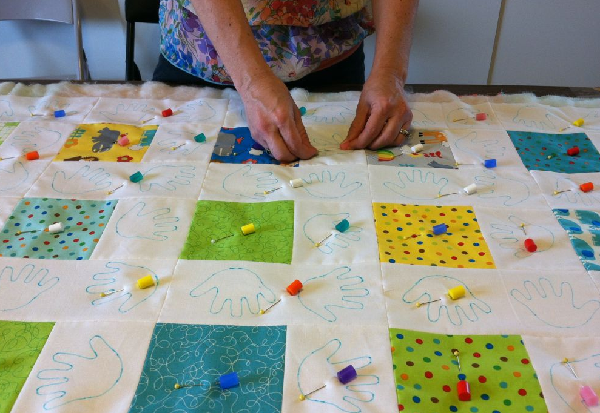 Pinmoor benefits include:
Compatiblity with any pin
Leaves less holes than safety pins
Easier and faster removal while quilting
Color allows for better visibility while sewing
Non-toxic, reusable material
After searching for a manufacturer for close to six years, Ivison found Apple Rubber. In 2010, she proposed her idea.
Apple Rubber and custom-molded prototypes
"I searched for years to find a company that would manufacture a prototype for me," Loretta says. "I not only needed a specific size and durometer, but many manufacturers knew that the part was a quilting tool — and didn't think I would order in large enough quantities to make a profitable relationship."
It wasn't long, however, before Loretta began ordering up to 100,000 parts at a time from Apple Rubber.
"The prototype needed to be soft for pin insertion, but firm enough so the pin wouldn't go all the way through," Apple Rubber Materials Manager John Tranquilli, who has been a key player in the production process, says. "In regards to the industry, this was a little outside of the box for us. We love taking on custom challenges and providing for start-up companies. This is a great example of why the prototyping process is so important."
As Loretta needed parts to pitch her concept, Apple Rubber engineers were challenged with time. Pinmoor requirements are very specific – ½ inch by 3/8 inch, and the part had to be the appropriate durometer.
"Apple was great about developing the perfect hardness, size and material," Loretta says. "I was very particular in asking for non-toxic and American-made products, and I couldn't have done this without the quick samples. They were exactly what I needed."
Today, Loretta – the founder and owner of Pinmoor – has loyal customers worldwide. She holds patents in the United States, UK, Australia, Canada and Germany.
"I can guarantee quality with this product," she says. "It can be used over and over again, and the silicone is safe. I actually tried other companies, and wasn't successful. I needed the quality and consistency Apple has offered."
Working with LSR at Apple Rubber
"Liquid Silicone Rubber (LSR) is great because it allows us to give our customers a full range of durometer," Tranquilli says. "For Pinmoor, we started with a single-cavity prototype tool. Through LSR molding, we were able to provide Loretta with different durometers and colors to test her idea – which perfectly met her marketing needs."
LSR offers high thermal stability at low temperatures and a high degree of transparency. Since it is an ideal solution for complex profiles, it is commonly used in static seals, environmental housing seals and medical devices.
What are the benefits of LSR?
Clear polymer base – it is very easy to pigment
Injection molding allows for higher volumes
Widely used for molding complex shapes in extreme temperatures
"We have worked in all industries, from automotive, to medical to consumer products," Tranquilli says. "But no matter the situation, it's very rewarding to see new start-up products entering the market knowing you played a key role in production."