As our nation's medical stockpiles are depleted during the global pandemic, there are many important considerations to keep in mind when rebuilding and storing medical devices using rubber o-rings, seals and gaskets.
Medical devices and PPE use rubber seals that need to be stored many years before use. Utilizing the right rubber material for these seals is critical and can prevent future failures when they are needed the most. If rubber is not stored properly, it can begin to break down, which ultimately causes seals to fail or bands to fail when stretched. For example, there have been cases in which ventilators needed to be rebuilt after being taken out of storage or surgical mask straps breaking when pulled on.  
To avoid crucial failures in the future, keep these considerations in mind when storing. 
Picking the Right Rubber
There are many different types of rubber, and each type contains different properties. One property that can be concerning during storage is the oxidative resistance of the polymer. This occurs when free radicals from heat, ozone or UV light attacks the rubber polymer chain. A simple example of this can be seen when pulling on an old rubber band. 
Rubber compounders can add antioxidants or waxes that give rubber better resistance. A big factor of resistance quality comes from the actual polymer itself.  The more saturation of the polymer chain, the greater resistance to this kind of attack. Rubbers such as EPDM, FKM, HNBR and Silicones are very stable in long term storage.  NBR, Natural Rubber and SBR break down more easily when not stored properly.   
Proper Storage
ARP5316 "Storage of Aerospace Elastomeric Seals and Seal Assemblies" is a recommended practice for proper storage for assemblies with rubber seals. Some of the recommended storage conditions are as follow:
Temperature: below 100°F (38°C)

Humidity: less than 75% (AU/EU less than 65%) if not stored in sealed moisture-proof bags

Light: protect from light sources, especially direct sunlight or intense artificial light

Ozone: storage rooms shall not contain any equipment that is capable of generating ozone
ARP5316 also recommends shelf-life by polymer type.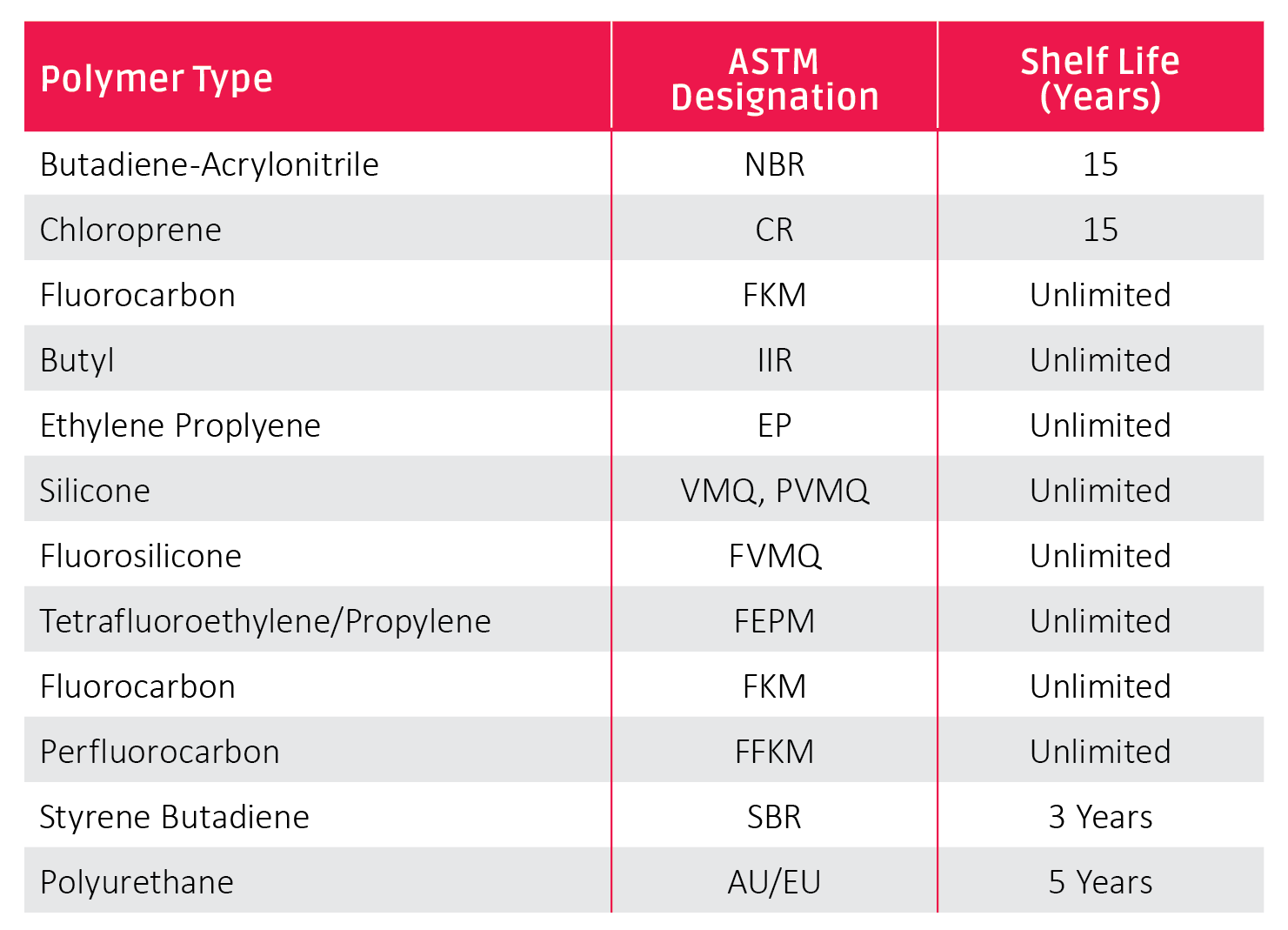 Lubrication
Many assemblies use lubricants, but it's important to make sure the lubricant is compatible with the entire assembly is key. Medical silicone oil is a common lubricant for medical devices, while plastic is typically compatible with silicone oils.   
There is a common chemical saying, "likes dissolve likes." An example of this can be seen in silicone seals: if you are using a silicone seal, silicone oil can cause swell. Most standard silicone is a dimethyl silicone, while most medical silicone used is a dimethyl silicone. If you are using common medical grade LSR, you may want to look into phenyl or fluoro based silicone oils. This will help prevent excess swell which would prevent the seal from working after storage.
There are other lubricants that might be considered. Dry lube coatings like parylene or cured silicone types such as Momentive Silicones LSR TopCoat™ should be considered. These lubricants won't cause the rubber seals to swell while also providing exceptional reduction in friction. Additionally, these lubricants aid in high-volume automatic assembly. These coated parts will not stick together when using a vibratory bowl feeder. 
When designing medical assemblies for long-term storage, keep these important considerations in mind. With over 40 years of experience, Apple Rubber can help you design and select the correct rubber material for your o-ring, seal or gasket. 
Want to talk more about storing medical seals?
Tweet us @AppleRubber to continue the conversation.