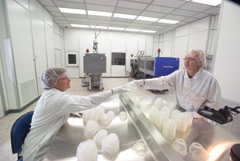 We're growing – again! We have expanded our Class 10,000 ISO Class 7, Certified Cleanroom at our corporate headquarters in Lancaster, NY.  This is a reflection of Apple Rubber Products' commitment to meeting increased demands from our customers.
R. Kraft, Inc. certified our room to the following standards:
• Testing and Monitoring: Air handling system supplying the clean room area has been certified to ISO 14644-2-2000.0915. This corresponds to FS 209E Class 10,000
• ISO 14644-1-1999.05.10 Guidelines for Cleanliness Classifications:
-Main Cleanroom: Class 7 (10,0000) in an "As-Built" Mode of operation at .5 microns
-Inspection Room (Gown Room): Class 7 (10,000) in an "As-Built" Mode of operation at .5 microns
Highlights in our clean room expansion include:
• Complete processing including production, washing and packaging area
• Two injection molding machines, primarily for liquid Silicone Rubber, available for plastic and rubber
• Fully automated ultrasonic parts cleaning system
We are striving to be the leading sealing solutions provider. By expanding our cleanroom, it allows us to be one step closer.