Even in our digital age, in which seamless communication can be initiated between two points on opposite sides of the world at a moment's notice, the best way to spark a business relationship can still be a handshake, eye contact, and a friendly conversation.
These powerful — and often profitable — encounters are why the Apple Rubber marketing team is slated to attend 18 national and international trade shows through the end of 2014.
"Trade shows are vital to meeting face-to-face with our prospect and customers," says Lynne Parry, Apple Rubber's trade show manager.  "We are doing a total of 18 shows this year around the United States, Central America, and Europe…
"We are adding to the mix, doing our tried-and-true, but also adding a few new shows for us in growing industries. Our focus is on the design and engineering of rubber parts, and an Apple Rubber engineer is always available at these shows to help solve attendees' design issues."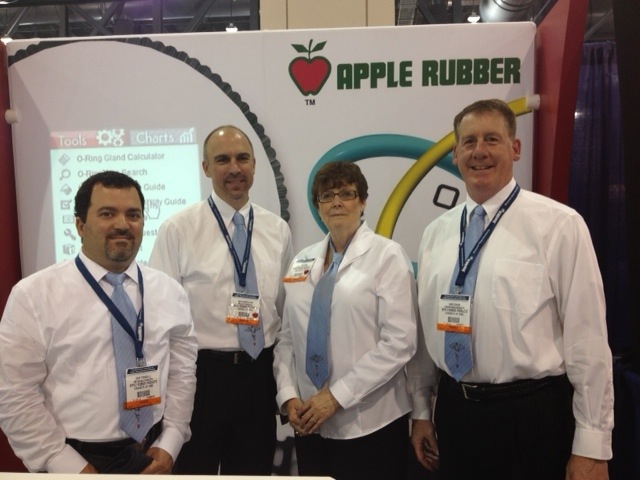 Apple Rubber attended the Marcellus-Utica Midstream Conference and Exhibition in January and the MD&M West Conference in February. The 16 remaining shows that the Apple Rubber team will attend in 2014 include:
BIOMEDevice Boston 2014, March 26-27, Boston Convention Center (Boston, Mass.). 3D printing, wireless security and updates, and robotic technologies will be hot topics. Apple Rubber will be in Booth 434.
The Life Sciences Forum 2014, April 7-9, Intercontinental Hotel (San Jose, Costa Rica). The global orthopedics and cardiology fields, as well as global manufacturing and the viability of virtual reality technology, will be discussed.
The Greater New York Design2Part Show, April 9-10, Meadowlands Expo Center (Secaucus, N.J). The largest design and contract manufacturing show in the metro New York area.
MD&M Texas, May 7-8, Fort Worth Convention Center (Fort Worth, Texas). Medical learning labs and introductions to industry innovations and emerging technologies in fields like manufacturing equipment, clean room and sterilization, design services and more make this event a must-attend. Apple Rubber will be in Booth 344.
Greater Chicago Design2Part Show, May 7-8, Schaumburg Convention Center (Schaumburg, Ill.). The 11-event Design2Part series continues with a stop in the Chicago metro area.
Santa Clara Design2Part Show, May 21-22, Santa Clara Convention Center (Sanata Clara, Calif.).
MD&M East, June 10-12, Javits Convention Center (New York City). The largest MedTech event on the East Coast. Apple Rubber will be in Booth 1470.
SEMICON West 2014, July 8-10, Mascone Center (San Francisco, Calif.). According to its website, "SEMICON West puts you in front of every major buyer in the North American market and other leading global companies–IDMs, foundries, fabless, OSATs, OEMS, and more. More than 80 percent of visitors are involved in the buying cycle, and over 70 percent say that what they see at SEMICON West influences their purchasing decisions over the coming year." Apple Rubber will be at Booth 335.
43rd Turbomachinery + 30th Pump Symposia, Sept. 23-25, George R. Brown Convention Center (Houston, Texas). "Engineers with vast experience in the petrochemical, process, chemical, utility, contractor, and consulting fields, along with manufacturers of rotating equipment and fluid-handling equipment from around the world… promote professional development, technology transfer, peer networking, and information exchange among industry professionals." Apple Rubber will be at Booth 223.
New England Design2Part Show, Oct. 1-2, Royal Plaza Trade Center (Marlborough, Mass.). Free admission is available online.
MD&M Chicago, Oct. 15-16, Schaumburg Convention Center (Schaumburg, Ill.). A return trip to Chicagoland for this two-day conference expected to draw over 6,500 industry professionals. Apple Rubber will be at Booth 1227.
Interphex / Medical Device Puerto Rico, Oct. 16-17, Puerto Rico Convention Center (San Juan, P.R.). An unique opportunity to network with Latin American representatives from medical, construction, and supply fields. Apple Rubber will be at Booth 613.
Portland Design2Part Show, Oct. 29-30, Portland Convention Center (Portland, Ore.).
COMPAMED International Trade Fair, Nov. 12-14 (Dusseldorf, Germany).  "Technologies of the future are shown at COMPAMED today," according to the event website.
Raleigh Design2Part Show, Nov. 19-20, State Fair Exposition Center (Raleigh, N.C.). The final Design2Part show of the season.
MedTechWorld BIOMEDevice, Dec. 3-5, San Jose Convention Center (San Jose, Calif.). Over 650 exhibitors and 2,000 industry professionals attended the 2013 San Jose event.