In 1989, we published our first seal design guide. That slim volume became more popular and successful than we had ever imagined. Over the past 25 years, we've continued to improve, revise and add to the seal design guide — it's a living document that stays on the cutting edge of the industry.
What is the Apple Rubber Seal Design Guide?
Our seal design guide serves as a reference, handbook, manual and research tool to bolster the knowledge of among sealing principles engineers, manufacturers, chemists and other rubber industry insiders. It's a useful resource for learning the ropes of the O-Ring world.
"Think of it as a tour," says Romel Ner, one of our project engineers. "It starts with the basics. What is an elastomer? How does an O-Ring work? But it also includes chemical compatibility charts and material descriptions. Customers tell us that our seal design guide is very informative."
The tour then proceeds through the material selection guide, discussions of seal types and standard O-Ring size charts.
In our updated edition, we get a little philosophical. We reflect on the dynamic growth of Apple Rubber Products and our commitment to continually bring our customers new ideas in seals and elastomers.  There is also a comprehensive overview of our products and solutions is now available in an easy-to-follow, interactive format.
Seal Design Guides and Our Customers
Our seal design guide helps customers understand the parameters for an effective seal. The guide offers descriptions and recommended practices for custom products like filter, composite, housing and Teflon seals, conductive materials and custom molded shapes.
"It really gives customers a hands-on feel, especially for customers new to O-Ring design," Ner says. "Our guide contextualizes the charts with interactive gland and design calculations. With these tools, customers develop an understanding of how the numbers are derived."
If customers have problems with designs, our seal design guide also offers troubleshooting tips.
"Our O-Ring failure modes work to interpret the issue at hand," says Ner. "It literally illustrates the most common O-Ring mishaps, like abrasion and oxidation, and provides suggested solutions."
Digging in to Apple Rubber's Seal Design Guide
Our seal design guide sets itself apart with a few different features:
Dimensional Layout: Our guide includes charts specifically for static and dynamic applications in radial configurations. We show axial configurations, recommended dovetail and rotary gland dimensions and crush seal setups, with numerous options for the O-Ring set-up. These layouts give you exact dimensions for groove designs when using standard AS568 or ISO 3601 O-Rings, simplifying most O-Ring designs.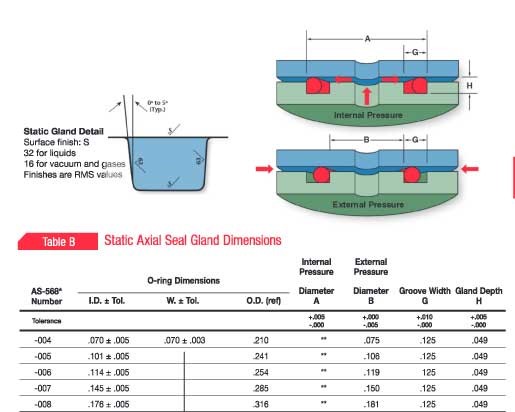 Rules of Thumb: Through years of experience, we've compiled a Do's and Don'ts checklist—our Rules of Thumb. This list covers the entire O-Ring design. We offer advice on stretch and gland volume occupancy; recommend cross-section compression for different applications and caution about certain fillers. Adhering to the rules strengthens the seal's effectiveness.
Material Selection Guide:  Each material is described along with key uses, temperature range, features and limitations.
In the chemical compatibility guide, we list and rate specific chemicals.
We also present a unique chart where the elastomers are rated against common application parameters, like abrasion resistance, steam resistance, gas permeability.
We go even further in our military specifications list.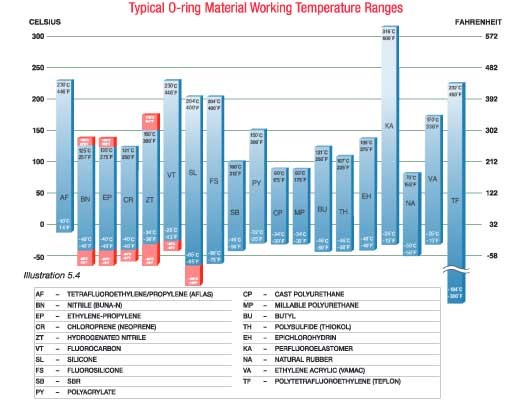 Inspection Specifications: We address foreign material/inclusions, off-register/mismatch, parting line projection and excessive flash, providing technical descriptions as well as detailed drawings of the inspection specifications. Allowable tolerance ranges as specified by ISO, Mil-STD and AS. RMA practices are also itemized.
Interactive Formulas: Our seal design guide includes interactive formulas for O-Ring groove design. The customer inputs values and gets an automatic calculation. Among the available calculations are maximum O-Ring compression, percent of stretch, reduced O-Ring cross-section and minimum gland volume.
The formula's variables are called out in direct relation to the hardware design, so there is no confusion trying to figure out what any symbols stand for.
"In conjunction with our seal types and gland design charts, the formulas provide the complete picture," Ner says. "Engineers can really appreciate that."
Whatever you call it — and however you may use it — our seal design guide is dedicated to helping you design a successful sealing solution. We hope you find it useful.