A wide variety of food processing equipment utilizes FDA-grade seals in their daily operations. Seals for these industries are required to not only be able to withstand the speed and abrasion demands of continuous operation, but should also use FDA-compliant materials for chemical compatibility and non-toxicity.
What makes rubber FDA-grade?
Since the FDA has strict standards in place for the types of materials that can come in contact with consumables, the materials used to make food-grade rubber must be officially approved by the FDA. All FDA-manufactured products are handled and packaged in a certified cleanroom environment and subjected to rigorous testing to meet the demands of the most challenging food processing and beverage applications.

These rubber materials are generally:
Used for food, beverage, meat, milk or any food-compliant chemicals

Odorless, tasteless and natural resistance to bacteria buildup

Reliable service at wide range of temperature

Non-toxic, non-marking and non-allergenic materials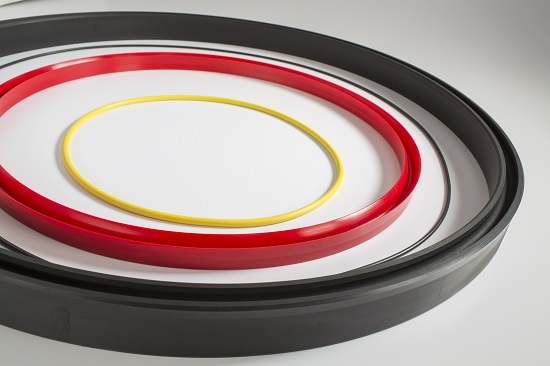 These compounds must consist exclusively of the ingredients listed in the FDA's White List located in the Code of Federal Regulations (title 21). O-Ring manufacturers must utilize food-grade materials only from the white list of FDA sanctioned ingredients.

Let's take a look at five of the best FDA-grade rubber materials:

EPDM.

EPDM Rubber is used in applications that demand both flexibility and ruggedness. Made from odorless and tasteless compounds, it can be wisely used in both specialty and general purpose applications. It is ideal for temperature ranges of -40°F to 250°F.

Uses: Commonly used in the food and beverage industry, automotive products and HVAC parts.

Fluorocarbon.

Fluorocarbon combines high temperature resistance with great chemical resistance. It's nearly invisible under water, and also doesn't absorb it. Working temperature range is considered to be -15°F to 440°F.

Uses: Commonly used in aircraft engines and seals for automotive fuel handling systems. These O-Rings should be used in mechanical devices requiring optimum resistance to elevated temperatures and fluids.

Neoprene.

Neoprene has a smooth finish, good resistance to abrasion and repels oily and greasy food products. It has great resistance to petroleum oils, good resistance to ozone, sunlight and oxygen aging. It's one of the earliest synthetic materials to be developed as an oil-resistant substitite for natural rubber.

Uses: Neoprene is widely accepted as a preferred material for refrigeration seals and has several uses in the transportation field. In the automotive world, it's used for many under-the-hood and underbody parts that require a reasonably priced polymer with great balance of performance properties.

Nitrile.

Nitrile is the seal industry's most widely used and economical elastomer, which combines excellent resistance to petroleum-based oils and fuels, hydraulic fluids and high abrasion resistance. With a hardness of 40 to 90 Shore A, standard compounds range from -40°F to 257°F.

Uses: Oil-resistant applications of all types, off-road equipment and low-temperature military uses. Nitrile performs well in oil rigs, automotive and marine applications, aircraft hoses, seals and gaskets.

Silicone.

Silicone seals make up about 30 percent of Apple Rubber's business. This rubber has thermal stability, low chemical reactivity and low toxicity. It also has heat-resistant properties. Silicone allows for longer service life and has one of the widest operating temperature ranges from -148°F to 600°F.

Uses: Using food-grade silicone is a great way to ensure that foreign substances will not contaminate foods. Silicones are used in sealants, adhesives, lubricants, medical applications, cooking utensils and insulation.

Have questions about FDA-Grade materials? Check out our inventory or contact our expert engineering team. For more information on FDA rubber products, check out our special elastomer applications.