At Apple Rubber, we refer to our thermobonded o-rings as MacrOrings®.  These take vulcanized cord stock and bond them to virtually any size o-ring requested.  Some companies refer to thermobonding as "spliced and vulcanized"–but it is essentially the same process.  
Apple Rubber uses special adhesives that require heat to cure the bonds together, making a more flexible and stronger bond. Other companies may use cyanoacrylate glues that create a harder formation at the bond point. Thermobonded o-rings work well for weather seals or where large inner diameter o-rings don't have many dynamic forces applied to them.  Since the o-ring is made out of a cured cord, the inner diameter can be very large. Also, no mold is required to make the part, so set up costs are lower. 
Here's a closer look at how Apple Rubber conducts the thermobonding process. 
Cord Stock Is Extremely Important
Cord stock is produced by extruding unvulcanized rubber through a die that is then cured.  There are various cure methods that can be executed. However, heat is most often used for curing since the cross-section size is very dependent on the process.  
In a molding process, the cross-section is fixed by the cavity of the tool. There are several factors that affect the cross-section tolerance in an extrusion. For example, die swell is the amount of change that the final diameter will experience after being extruded from the die. This is directly affected by the molding process–the shear of the rubber going through the die creates forces on the rubber that directly impacts the cross-section size. Temperature change across the die head also affects the diameter. 
Fluctuations in extruding pressure can make the cross-section diameter change throughout the length of the cord.  It is critical to have the extrusion in a steady state so the dimensions do not change or limit variations. 
Thermobonding in MacrOring
®

Seals

The MacrOring® is known as Apple Rubber's breakthrough manufacturing process for large o-rings and seals. MacrOring® seals are available from 2″ I.D. to 500″ I.D. and beyond, and in cross-sections ranging from .070″ to 1″. These typically fit into the standard AS568 sizes 0.070", 0.103", 0.139", 0.210" and more. Our cord stock is available for sale at requested lengths.  Customers can also produce their own o-rings to fit a given machine groove. 

Tolerances for MacrOrings® are different than molded o-rings, as seen below.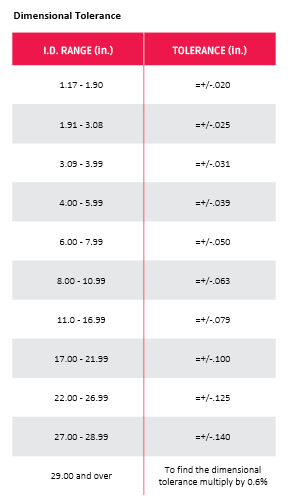 Numerous materials are available for MacrOring® production, including silicone, nitrile, neoprene, fluorocarbon and neoprene sponge. We verify all batches for hardness, cross-section, tensile strength and FTIR for material consistency. We assure all required materials are post-cure to provide low outgassing when required. We also test cure properties to assure compliance. Special material properties can be met depending on the minimum run size. 
Want to talk more about thermobonding?
Tweet us @AppleRubber to continue the conversation.