Apple Rubber has participated in Compamed/Medica, one of the largest medical shows in Europe, for the last 12 years. This show is an excellent opportunity to meet all our international customers and gain new ones. Medica, the main show, features companies that sell finished medical goods. Compamed is the component side of the show, which we participate in. This year, despite some lifted COVID restrictions, there were challenges to taking part in the show.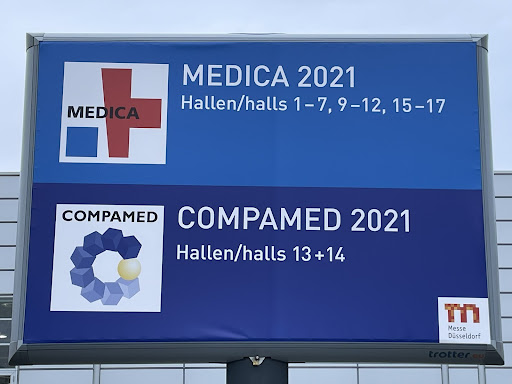 COVID Restrictions
Everyone travelling to the show needed to have a COVID vaccine card or a negative COVID test before leaving for Germany. In addition, the German government requires that a contact tracer form be filled out. 
Germany has multiple stages of restrictions, and Dusseldorf was at level G2. This meant that one of the following was required in order to enter the convention or go out to a restaurant: a COVID vaccine card, daily negative tests, or proof of recovery. Surgical, N95, or FFP2 masks were required to enter buildings and use public transport.
Due to COVID regulations, the show spaced exhibitors apart to promote social distancing. We were told there were about 3,000 exhibitors attending compared to an average of 5,000 in other years. Attendance was noticeably low compared to previous years. This may have been the result of Germany's rising COVID rates before the show. 
Show Highlights
 Despite restrictions, we were able to interact with companies from all over the globe.  Many of these customers were interested in our prototyping capabilities. Thanks to our in-house tool room, we can produce single cavity or low cavity tooling relatively quickly. We can then provide low quantity qualification runs for our customers. This is typically charged as a setup fee that covers building the mold, setting up the molding machine, molding parts, and measuring them for approval. These setup expenses are typically much lower than what would be charged for a plastic part. Plastic tooling can be more expensive due to the requirement for cooling lines and injectors. We can reduce the tooling cost by heating the platens that the mold sits on to cure the rubber during molding. Having no mold heater elements reduces tool steel and machining time.  
After hearing about our large o-ring inventory of standard and non-standard sizes, many customers realized that they can find exactly what they need already in stock. This is very useful for companies experiencing supply chain issues. For example, many vendors can't supply o-rings from Asia because many areas there are still experiencing COVID shutdowns. We have also increased our raw material inventory, so allocations don't prevent us from making o-rings. 
All in all, it was a good show. Despite restrictions, we were able to meet many of our valued customers, as well as gain some new ones. Travel can still be tricky, so make sure to check travel requirements for any countries you may be visiting soon. There are many places to get a COVID test before you fly, even at the airport. 
Interested in hearing more?
Check us out on Twitter for updates from Apple Rubber.