During this time of rapid medical developments, we have noticed some trends that save time when customers are designing medical devices using rubber seals and gaskets.  In normal medical design cycles, companies have years of design and validations. During a crisis, those years turn into months. Here are some ways to help reduce the design phase and time for certification.
Stick to the Standards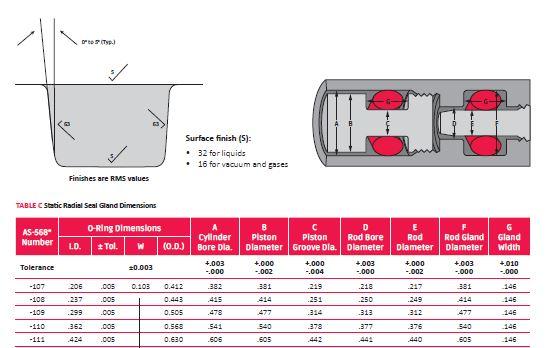 Whenever possible, try to use AS568 or ISO 3601 standard sizes. Rubber companies typically stock more of these sizes than non- standard. If you are starting from a new design, check design tables for groove design–you want to make sure the groove has proper sizing to avoid excessive compression on your o-ring. Too much compression can cause major sealing issues, while not enough compression can lead to  leaks.  
Once your plastic or metal casting comes in, it is too late to change. You might then have to change your design to a non-standard size, which could cause an additional delay while tooling is being created for the new o-ring.  If you have a fixed groove design, run the numbers on a close standard size to see if it meets recommended compression using a gland calculator. You should also check current inventory to see if your non-standard or alternate size you need is in stock.
Use Pre-Approved Materials
Before requesting samples, check with your regulatory department to see if there are already approved rubber materials you can use. We have seen large companies with many divisions use many different materials for an application, which can cause delays.  
Each material has to go through extensive testing and pass regulatory assessments. If a material was already used in a previous application, this information can then be used as justification for the new application–potentially eliminating timely testing and regulatory demands. 
This is especially important before samples are requested.  The most common o-ring stock material is nitrile (Buna-N).  This material is widely used in automotive applications. Since automotive is the largest consumer of rubber, more companies stock o-rings in this material. However, nitrile is not typically a good material for medical applications.
With our long history in the medical device market, we are stocking more sizes in medical grade materials. We have seen designs in which customers get automotive-grade o-rings for testing, only to have to undergo the same testing for a medical-grade material because the sample material will not pass their regulatory requirements.  
If you have an approved material: 
First ask for that grade. 

Next, see if there are FDA Class VI or ISO 10993 grades available.  

If those are not available, you may want to try FDA food grade materials instead, since  those materials should seal the same with the proper design
Map Out the Manufacturing Process
Especially with medical parts, knowing the manufacturing process is critical. You'll want to know what contact the parts have had with other chemicals or any chances of biological contamination. Mold release and cleaning agents are common chemicals used in manufacturing, which could come in contact with your products. Most regulators need to know of any exposures to determine potential problems in your application. 
If the parts are clean, you want to assure that the water you use is purified and will meet an endotoxin limit, make note of which soap you use and if applicable, identify the bioburden level after washing.  Again, if this process was already evaluated with other designs, reusing these evaluations will speed up regulatory approval. 
Be Aware of FDA Guidance Documents
In some cases, IQ, OQ and PQ are required, This process can take up a lot of time, especially if it is the first time a piece of manufacturing equipment has gone through the process. The more times the process has been validated, the quicker the IQ OQ PQ can be completed since past data can be used or the process has already been streamlined. Forms, reports, and process validations can be copied to meet current needs. 
All these factors can help reduce the design time and regulatory approval process.  Apple Rubber has full-time project engineers willing to work with customers from design to approval and through prototype to productions.