Although the COVID pandemic was a medical emergency, manufacturers played a critical role in supporting the medical community and helping the world recover. Shortages of ventilators sparked a massive effort to manufacture these machines in a short production time. With the development of vaccines, vast pharmaceutical production of these critical components were required. Once the vaccine was produced, billions of delivery systems had to be created. The use of disposable syringes required the mass production of plastic syringes and rubber seals.
As many of the rubber and plastic manufactures played a critical role in meeting high volume demands in short lead times, here are a few projects that Apple Rubber contributed. 
Ventilators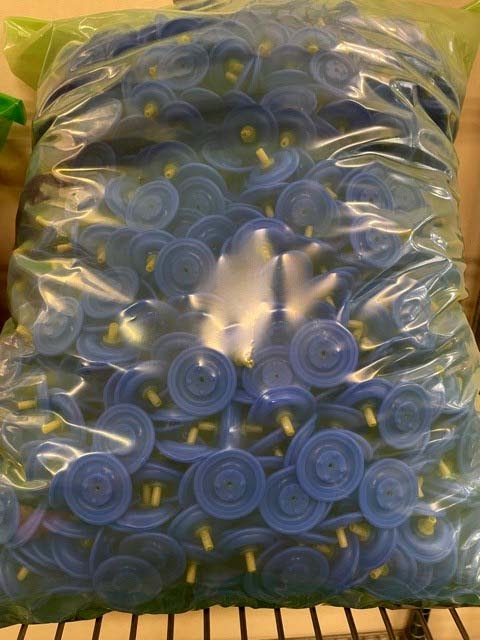 Ventilators act as an artificial respiration for people unable to breath on their own by pumping oxygen into the infected lungs of the patients. These machines use various rubber seals and diaphragms. 
Apple Rubber was in development with a customer that needed a rubber diaphragm molded onto a plastic stem.  With our bonding capabilities and composite seals, we were able to directly mold silicone rubber onto the plastic stem. Working with our customer for FDA approval pre-Covid, most of the qualification process was already completed. As COVID hit and demand spiked, our customer was awarded approval and we quickly molded hundreds of thousands of these custom molded medical parts.  
Sanitary Gaskets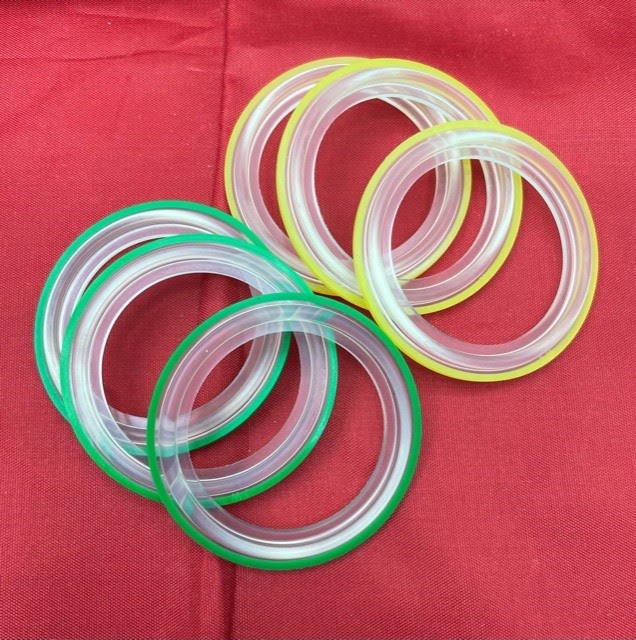 Sanitary gaskets are widely used in the biotech and pharmaceutical industries. These standardized seals are used in piping connectors, and the size of the seal is dependent on the pipe size being connected.  Frequently, these silicone seals require changes to prevent any cross contamination if a process change occurs in which different agents will be in contact.  
Our customer asked if it's possible to color code the gaskets so workers will be able to identify seals that need to be changed.  For example, one day could be a green gasket and the next day could be yellow.  This would allow workers to walk down pipelines and quickly see visually if seals have been changed.  Another reason we chose to color the gaskets was to prevent pigment from reaching the seal surface and making contact with the sealing fluid. This would help prevent any additional qualification on pigments used.  If there is no contact in the application,  then there would be no need to evaluate pigment and fluid interactions.  Apple Rubber used insert or composite sealing techniques to mold both clear profiles and then insert to mold the pigmented profile together. 
Disposable Syringes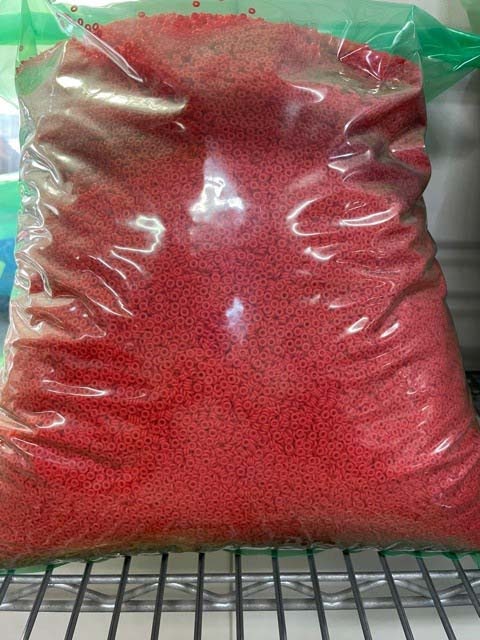 Disposable syringes are critical to the distribution of the much needed COVID vaccine. To reduce the rubber mass that is in contact with the fluid,  o-rings are used instead of full syringe tips. With less mass, there should be less chances of cross contamination from any leachables. As you can imagine, the volume of o-rings required for COVID vaccinations all over the world is vast.  Apple Rubber's proprietary process for manufacturing Microrings™ excelled in this production. We utilize high volume LSR molding with cold deck mold technology. This process allows us to minimize material waste, high volume cycle counts, and reduced cycle times to produce quality products that meet our customer demands. As the pandemic began, we increased raw material inventory to prevent any disruption seen within the industry–especially in silicone demand. 
As all plastic and rubber manufacturers to this day continue to play a major role in the global response to the pandemic,  Apple Rubber's various molding technology and 50 years of experience allows us to effectively meet our customer requirements in quality, lead time and quantity.