The manufacturing industry has continued to grow and advance over the last year, with new technologies making processes quicker and easier than ever before. Still, through all of the exciting times that have surfaced, many manufacturers have also experienced a few bumps along the way in 2019.
Keeping up with cutting edge technology and remaining competitive in an industry that is constantly evolving is only half the battle. Manufacturers have been faced with a lack of skilled workers that is making it more difficult than ever to find new talent. And as the Baby Boomer generation is beginning to retire, searches for qualified employees has become a serious challenge. 
With major obstacles weighing the industry down, where is the future of manufacturing headed? Here are some of the largest obstacles that manufacturers have faced this year.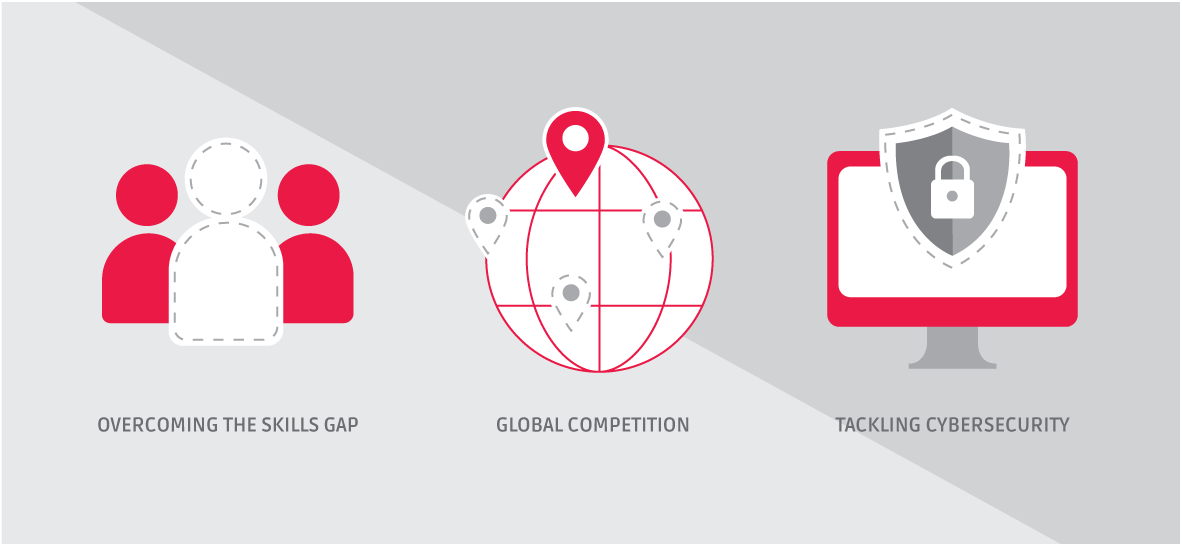 Overcoming the Skills Gap
As the Baby Boomer generation is gearing up for retirement, manufacturers are facing a shortage of skilled workers to take their place. According to The Manufacturing Institute, over two million jobs will be left unfilled over the next 10 years, leaving many companies understaffed and struggling to keep their doors open. 
While this challenge hit the industry head-on over the last year, this problem is only just beginning. However, many companies have decided to take new steps towards attracting and retaining talent through training programs, internships, job fairs and getting involved within the community. With these efforts in the works, companies are looking ahead with hopes to minimize this looming obstacle as much as possible. 
Global Competition
Major advancements in technology, such as artificial intelligence, automation and augmented reality, have made industry competition tougher than ever. These technologies are becoming easier to develop over time, providing greater access for many companies looking to adopt new digital technology. 
With increasing availability to current technological trends, competition is about more than having the latest devices–because everyone has them. It's now about utilizing these new technologies in the most efficient, productive way possible to get the biggest benefit out of your investment. 
To remain relevant in global competition, manufacturers should shift their focus towards adopting only what will best benefit their process and implement new technology to its fullest potential. 
Tackling Cybersecurity
As many companies have embarked on digital transformations this year, cybersecurity efforts have begun to take precedence. Manufacturers are moving everything online, from data collection and storage to cloud computing and artificial intelligence. This opens new windows of opportunity for hackers to attack. 
Manufacturers should consistently monitor their cybersecurity systems, ensuring that they are always up to date and fully protected. Employees should also be educated on spotting warning signs of cyber attacks and breaches in the system to stay one step ahead of potential attackers. Proper system updates and education efforts will give your company the best defense against sophisticated cyber hackers that will continue to be a threat in the years to come. 
Want to talk more about manufacturing trends?
Tweet us @AppleRubber to continue the conversation.