When it comes to philanthropy, manufacturers generally give a portion of their total revenue, according to the 2014 Giving in Numbers survey. As manufacturers aim to play bigger roles in the global expansion of corporate community engagement, Apple Rubber is doing its part.
Lancaster Independence Days
Apple Rubber is located in Lancaster, New York., just outside of Buffalo. Since 1974, the village has  a local Fourth of July celebration. Known as Independence Days, local restaurants, shops, vendors and bands come together to provide a fun-filled, three-day event for Lancaster residents and their families.
From Thursday, July 2 to Saturday July 4, over 40,000 people are expected to gather to enjoy food, local products, carnival rides and games in addition to a parade and fireworks show. This year, Apple Rubber is a co-sponsor of the event, along with Jim Murphy Buick and GMC.
"These two companies have very kindly given equal funds to make our Village Event Series possible," says Dawn Gaczewski, events coordinator. "It's quite a generous sponsorship and we're graciously thankful for their local presence."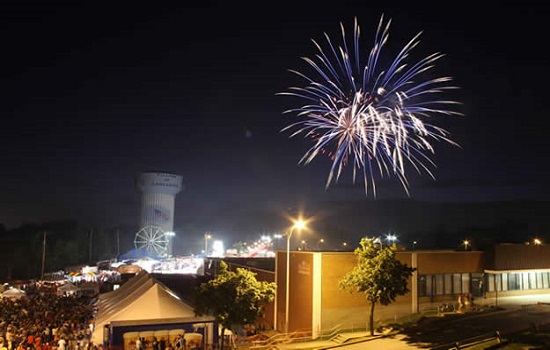 By acting as co-sponsor, Apple Rubber receives advertising in local newspapers, event signage, mentions on the Lancaster Village Facebook page and other village social media and pub tables at the holiday event. Due to the donation, the company also earned  a year-round sponsorship of the annual Village Event Series.
"Apple Rubber has been sponsoring our event since before I can remember," says Gaczewski. "They are such a local company and have a local owner. I really think they deserve advertising at all of Lancaster's events. When the sponsors keep coming back, you want to keep giving them more and more."
Manufacturing: Why give back?
There are several reasons why building a culture of philanthropy is important for any organization.
1. Create change. When organizations work to build a positive company culture and combine those internal efforts with other individuals or businesses, they stand a better chance of driving the kind of changes that can help solve major local and global issues.
"Combining efforts in charitable activities brings people together to share their voice and work jointly for a greater impact in driving change," says Susan Cooney, founder and CEO of Givelocity – a company with a record of building value and community across several genre-defining companies. "Organized efforts at work give employees a sense of equality where titles and salaries are out the door."
2. Team-building. While charitable donations may have an immeasurable impact on our communities, actions speak volumes, as well. Giving employees time off to contribute their labor to local causes can result in meaningful team-building and bonding time.
"Since we're going fast and furious to fulfill customer demands all day, internal production stress builds up," says Scott Voris, president and CEO of marketing firm Kelmscott Communications. "As with most companies, there are times when production teams are at odds during these stressful periods. Working side-by-side in a volunteer position helps to build respect, communication, teamwork, and sensitivity to everyone's role in the organization."
3. Brand presence. As with any sponsorship, giving back also has promotional benefits. Donating time or money into philanthropic efforts can often mean greater visibility for your brand. Apple Rubber, for example, will get its name in front of more than 40,000 people this holiday weekend in addition to knowing that they helped out for a great community cause.
"I run a Lancaster, locally-owned business and I'm a third-generation Lancaster resident," says Gaczewski. "By seeing a local company's name out there like Apple Rubber, I really think it puts out a good feel to other companies in the area to step up and let people know that they are community-oriented. Very few people go out of their way to give back, and I think it's awesome that they continue to do so."
John Tranquilli, Apple Rubber materials manager, believes that the company's efforts are part of a larger vision.
"We are committed to global stewardship through sustainability, governance and compliance, product and environmental stewardship, and social responsibility," he notes. "Our continued support of local community events shows our deep-rooted commitment to make our employees, organization and communities a better place for years to come."
For more information on Lancaster's Independence Days, visit their website or contact the office at 716-583-4078.

How will you engage your team in charitable activities during this holiday season? We'd like to know. Connect with us on Twitter to share some of your ideas and experiences @AppleRubber.