Complying with governmental regulatory guidelines and industry accepted best practices for manufacturing and supply chain management are foundational components for the sustainable growth of a global company.
As a key part of our continuing commitment to industry transparency and government compliance, we hold the important International Traffic in Arms Regulations (ITAR) and TRACE Registered Access Code (TRAC) certifications, which are necessary to work with the federal government and ensure efficient international trade systems with its customers and partners, respectively.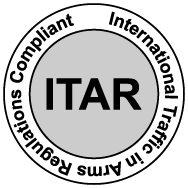 What is ITAR Certification?
ITAR certification represents expert working knowledge of exporting and importing under the U.S. Department of State Directorate of Defense Trade Controls (DDTC). The federal government requires all manufacturers, exporters and brokers of defense articles, defense services or related technical data to be ITAR compliant and also be registered with the State Department's DDTC. Many companies require that members of their supply chain be ITAR compliant, and this stipulation is often included in contracts, on purchase orders and request for proposals.
"ITAR is important because it gives the assurance to our customers that critical data will be protected when purchasing from our company," notes John Tranquilli, Apple Rubber materials manager. "This provides a secure supply chain to our top-level customers."
What is TRAC Certification?
We're also registered under TRAC as 2-15-811-1384-24. This represents a company's participation in a global platform that captures, assesses and shares due diligence information on companies committed to commercial transparency and assigns a unique, universally-recognized 12-digit code within 48 hours.

This system is designed to quickly and cost-effectively establish a TRAC holder's identity and information. As a result of this rapid tool for continuous monitoring, TRAC-certified companies are able to share information with customers and have real-time visibility into ensuring the efficient management of its supply chains and substantiating information associated with the company's code.
"TRAC gives us a global identification that allows for quick screening, and also ensures transparency needed by our customers in the supply chain," Tranquilli said.

The Benefits
According to TRACE International, Inc., global companies often struggle with expensive, complicated solutions for basic screening of suppliers overseas. They are faced with a variety of identification numbers — such as an EIN in the U.S., a five-digit number in Egypt, or a 13-digit Japanese Corporate registration number. Companies also struggle to screen each third party against the various government denied parties lists and manage the hundreds of false hits that arise. TRAC harmonizes these systems and verifies key information to create a robust compliance solution, and the resulting transparency increases business opportunities and provides an efficient way for partners to verify each other's identity.
Connect with us
Maintaining these important certifications are essential as manufacturers work to enhance overall operational efficiency, supply chain management, regulatory compliance and customer satisfaction.
What certifications have you received this year? How has your quality and compliance helped your company gain access into different global markets?
Connect with us on Twitter @AppleRubber – we'd love to chat.