Apple Rubber Products is always looking to improve materials that are currently being offered in our industry. UL 50 and UL50E are the safety standards for Enclosures for Electrical Equipment, with and without environmental considerations. Some of the problems with selecting the correct gasket material for these applications are long term compression set, ozone and weather resistance, adhesion and crazing, and sulfur out gassing contamination.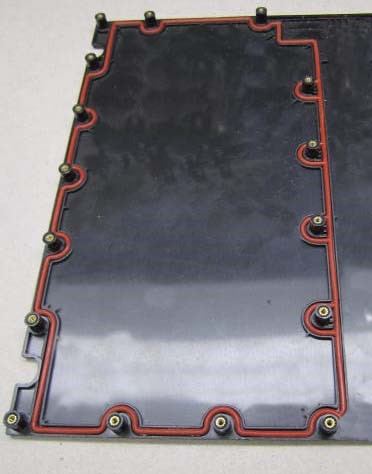 Apple Rubber has selected two silicone compounds 14SL7ML and 35SL5ML to be listed under this requirement (UL file: JMLU2.MH14216). These compounds provide ultra low compression set, even at elevated temperatures. Included in the listing is the end use for atmospheric ozone and generated ozone, therefore eliminating any environmental concerns due to ozone attack. These compounds don't contain any phthalate plasticizers which would craze plastic based enclosures, nor require any anti-corrosion inhibitors for metal enclosures. These compounds are cured without sulfur or peroxide to give very little residue that may outgas and corrode electrical components. We have tested 14SL7ML to ASTM E 595, which is the standard for Outgas Testing. The levels fall well within the screening levels for spacecraft materials which is less than 1% total mass loss(TML) and less than 0.1% collected volatile condensable materials (CVCM). The results for 14SL7ML are TML .33% and CVCM 0.05%. These compounds provide one of the largest temperature ranges from -65'C to +200'C. Also, to provide even more flexibility to design engineers, these compounds have been approved for Type 12, 12K or 13 enclosures which require oil swell resistance.
With years of design and molding experience, Apple Rubber can provide the most complex configurations to meet most design requirements. As we are committed to full service, all the following functions are provided at our plant in Lancaster, NY. Our Engineering Team can help design robust grove designs to help meet UL immersion requirements. Our Mold Shop can provide quick prototype tooling as well as multi-cavity production tooling. Our Quality Team, will provide all PPAP requirements or compliance documentation required.
14SL7ML and 35SL5ML PDF documentation: