Who is Craig Ross? He's one of our talented account executives, and he boasts 24 years of Apple Rubber experience.
We recently sat Craig down to talk about Apple Rubber's specialists, our customer service programs and how to get the most out of your million-piece order.
Apple Rubber: So the way the relationship between Apple Rubber and our clients would be described as 'direct-to-customer,' right?
Craig Ross: Yes — when customers work with Apple Rubber, they are not going through a distributor.
The benefit? The customer gets all of our expertise. We have engineers on staff who cumulatively have many, many years of experience. We have the ability to help customers with any kind of design issues or questions.
When customers purchase products through a distributor, the salespeople usually don't know the product very well because they're selling many different products. At Apple Rubber, we focus specifically on rubber products. When customers have any question whatsoever, we have the answer.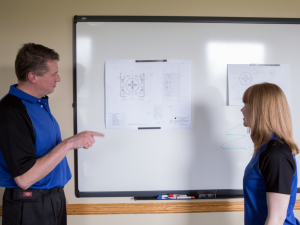 You have almost a quarter-century worth of experience, Craig! What about the rest of the sales staff? Are they new to the rubber industry, or seasoned vets like you?
Our salespeople have an average of 25 years' experience. They know the industry very well. No matter what type of problem, application, or issue a customer has, we have typically already handled either the exact situation or something very close.
So while each problem is slightly different, with our experience, we pretty much know what direction to go in to get a good sealing result for their application.
OK, there is a low minimum order threshold for O-rings. But what's the turnaround time? Will it be slower because it's small? 
It's actually great. We have a $50 minimum order — that's fairly low for the industry.  If the customer is in dire need — say they need to do some quick testing, or need an O-ring to fix a 'line down' situation — we are typically able to get parts out the same day. This allows our customer to be able to solve their problem the very next day.
We also can provide rapid prototyping, with another fairly low minimum — it's only a $400 minimum order. We can design and cut a tool and produce prototype parts to test pretty quickly, faster than most in the industry.
On the flip side, what can customers expect with their large orders?
Of course, it depends on the part, but a great way to handle large orders for both us and the customer is to create what we call a blanket order. The customer gives us the requirement for the whole year, and then we do releases off of that order.
For example, let's say that a customer needs 250,000 pieces each quarter over the course of the year. We would set up a blanket order for one million pieces. For the customers, the benefits are twofold — they lock in a price-per-piece for the year, and they have peace of mind knowing we will have the parts available and ready to ship.
Having the order ahead of time means we can decide the most efficient way to manufacture. We might make one release at a time, or make the whole million and stock them.
Give us a glimpse of the future, Craig — are there trends out there that you're seeing? 
Medical products are becoming a bigger and bigger for us. Our class 10000 clean-room is constantly booked. There are lots of parts going through it. I definitely see that becoming even bigger.
Lovely. Thanks for your time, Craig!