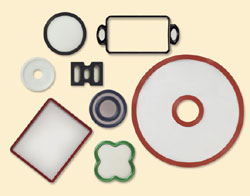 Now is the time to request a copy of Apple Rubber Products brochure: Filter Seal®.
For those of you who don't know, Filter Seal® is our custom designed combination of an elastomer and fabric that operates both as a filter and a seal in one device.
We pioneered this product over a decade ago. Since then, more than 10 million parts have been produced and distributed for numerous applications in various industries.  Is your application next?
Filter Seal® is designed to meet your unique specifications. Our engineers can work with you at the beginning stages of your design to show you how this unique seal will simplify your design and save you money and time!
Visit our website for a copy of the Filter Seal® Brochure