It's no surprise that 80 percent of U.S. consumers vote for American-made products – but as of 2015, it's starting to become a global trend.
A new study by the consulting firm AlixPartners estimates that this year, the cost of outsourcing to China will be equal to the cost of manufacturing in the U.S. Due to higher labor wages, the rising value of China's currency, and the cost of shipping goods from China to points around the world, manufacturing in China has become more expensive over the last several years.
Made in China: The end of an era?
This reshoring trend is on its way to attracting domestic and abroad business, and more U.S. businesses are likely to produce goods closer to home.
"The Chinese manufacturing cost advantage has eroded dramatically in the last few years," notes Steve Maurer, managing director at AlixPartners. "If you go back to 2005, it was pretty common for landed cost from China to be 25 to 30 percent less than the cost of manufacturing in the United States. Based on our analysis, two-thirds of that gap has closed."
Higher energy costs are dampening China's manufacturing ability – the Boston Consulting Group reports that the cost of industrial electricity rose by 66 percent from 2004 to 2014 and the cost of natural gas soared by 138 percent.
More American manufacturing jobs not only reduce the unemployment rate, but also expand the tax base to pay for benefits like Medicare and Social Security. And jobs will come — the Center for Automotive Research estimates that every new job in auto manufacturing supports nine other jobs, from restaurant workers to parts makers.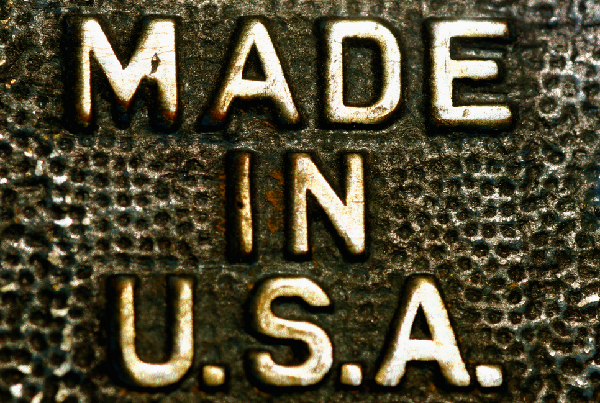 What constitutes as Made in USA?
In order to claim that your products are made in the U.S., you must meet Federal Trade Commission (FTC) compliance. This requires that final assembly takes place on U.S. soil and also requires that the majority of manufacturing costs be spent on U.S. parts and processing.
Apple Rubber sees customer service, quality and lead times as some of the top benefits of U.S. manufacturing.
"As a customer molder of rubber products, we have seen cases where our process can turn around from prototype to production quantities with exceptional quality standards and lead times as few as three to four weeks," notes John Tranquilli, materials manager. "Many of our customers have seen overseas lead times as long as 10 to 12 weeks. Our open door policy also allows direct communications from engineer to engineer as well as on-site quality audits to satisfy company's most stringent quality systems.
As we enter the "Made in USA" resurgence, here are some other benefits of homegrown production:
Lower Shipping Costs. No overseas costs means lower shipping within the U.S.
Sustainability. Without overseas shipments and pollution, natural resources are saved which is better for the environment.
Safe products. The U.S. Food and Drug Administration holds higher standards than some foreign-made products – avoiding product and food recalls.
USA Quality. In a study released by The Boston Consulting Group, more than 60 percent of Chinese consumers prefer a product made in the U.S. to a China-made product of equivalent price and quality.
Safety regulations. The welfare of overseas workers is often placed in jeopardy. U.S. regulations keep standards in place to ensure the safety of workers.
Economic support. U.S. taxes subsidize our schools, roads, water supply and more – and we all pay them. Supporting U.S. manufacturers benefits all U.S. citizens.
Customer service. Made in USA providers can provide fast and personalized service (and shortest lead times).

The U.S. is becoming increasingly attractive as a location for making certain products for the U.S. market – and as a base for global exports. What benefits do you see as an American manufacturer? We'd love to hear your thoughts on Twitter @AppleRubber.