When finding the right o-ring for your application, size is a critical factor. An ill-fitted o-ring will cause leak paths to form in the sealing application, which will evidently lead to failure. O-Ring seals are engineered in AS568 and ISO 3601 standard sizes, as well as non-standard sizes for custom applications.
To ensure your o-ring is the right fit, there are two important measurements that need to be taken: inside diameter (ID) and cross-section (CS). Here's a closer look at the steps you need to take when measuring your o-ring seal.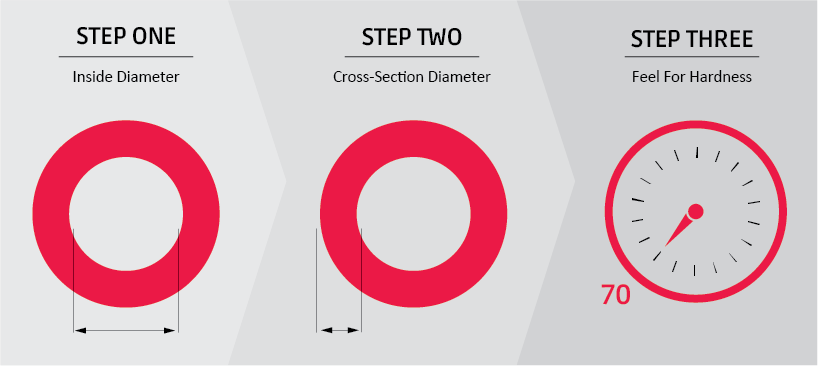 Step 1: Inside Diameter
The ID measures the space between the inner edges of your o-ring. To find this measurement, lay your o-ring on a flat surface. Use a ruler to measure from one inner edge of the o-ring across to the inner edge. Depending on the size of your o-ring, the ID may be recorded in inches or millimeters. This will help determine how large of an opening your seal should have. 
Step 2: Cross-Section
The CS of your o-ring is otherwise known as the width or thickness of the seal. To measure the CS, you will likely need a vernier caliper. Place the o-ring in the caliper lightly, without compressing it. Measure and record the width of the rubber. This is an important measurement, as the width of the seal plays a major role in a seal's compression resistance, volume swell and abrasion resistance. 
Step 3: Feel for Hardness
Every rubber material has a unique hardness, which is measured by the Shore A durometer scale. A general rule of thumb is the harder the compound, the higher the durometer. Standard rubber compounds generally have 70 Shore A hardness, but hardness can vary based on the material and the application. You can sort rubber materials by the hardness you're looking for in our O-Ring Material Selection Guide. 
Next Steps: What to Do With Your Measurements
Once you have recorded the ID and CS of your o-ring, you can use these measurements to formulate the exact o-ring you need for your application. Standard o-ring sizes are often referenced by their ID and CS. For example, a seal formulated with AS568-010 size, 70 shore A hardness and Nitrile material would be referenced as 0.239 x 0.070 70 BN. 
Apple Rubber offers an online O-Ring Size Search tool that allows you to input these measurements to find the seal you need. With over 7,000 standard and non-standard o-ring sizes in stock, it's likely that we have exactly what you're looking for on-hand. If the size or material you're looking for does not appear in the Size Search tool, you can input your o-ring sizes into our Request for Quote form and an Apple Rubber engineer will contact you with more information. 
If you have any questions about o-ring sizes, standards, or are looking for a size in-stock, contact an engineer today.