In medical, aerospace and military applications, where safety and security are especially important, more and more manufacturers are requiring permanent identification marks on their parts to aid in traceability. Laser marking makes it easy for companies  to identify parts during replacement or repair and gives customers security in knowing that they are receiving the authentic, high-quality parts their applications demand.
Recently, Apple Rubber added the Samurai UV Laser Marking System, allowing us to add a new program, Apple LaserMark, to our in-house capabilities.
What is laser marking?
Laser marking is used to create characters and graphics on customer's parts. If your company manufactures  specific components for larger applications, you know how important it is to mark your parts with model numbers, bar codes and logos.
The process does not involve a physical tool etching the surface of the part, nor does it transmit ink or any other substance onto the surface — instead, the laser light is focused onto a material, producing damage-free, easy-to-read marks.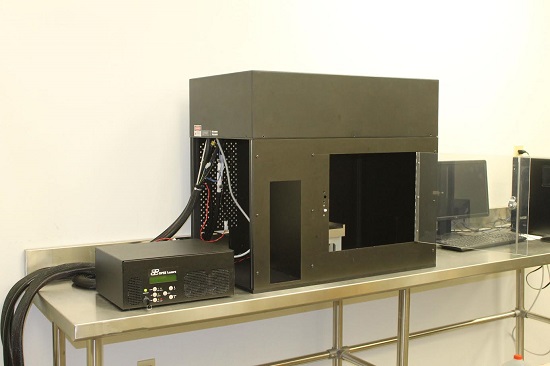 One big advantage of Apple LaserMark is beam quality, which leads to a smaller spot size of the laser. The small spot size, along with short pulses, produces high peak power which is beneficial in deep marking with crisp, clear marks and small characters.

Why choose laser marking over printing?
Complete visibility. Laser marking's easy-to-read printing makes it far superior to a printed mark. Stickers fall off and ink fades. Permanent marks can stand the test of time.


Speed.

Laser engraving is fast and simple. You can mark your parts faster with much less time spent on the actual process.

Reduced maintenance.

Avoid downtime associated with cleaning (or fixing) a printer when you utilize laser marking systems.

Flexibility.

Although Apple Rubber focuses strictly on rubber components, laser marking works on a variety of materials — whether you're working with plastics, metals or natural materials.

Minimal contamination.

Laser marking ensures clean processing with minimal contamination. Where printing systems will burn down the material by marking, the damage-free process involves minimal material penetration (if any).
Laser Marking: In the field

In-house laser marking systems make it easy to mark and track parts, improve process flow and maintain consistent product quality. Item Unique Identification, known as a UID, offers many advantages for tracking in the aerospace, automotive, electronics, defense and medical industries.

The military. The U.S. Department of Defense (DOD) has played a role in the increasing use of laser marking and other identification technologies. The DOD now requires UID for all tangibly property valued at $5,000 or more. The unique identification code must be marked directly on the item or permanently attached and must also withstand the same environmental conditions as the item.

Military laser marking and engraving is also used to add graphics to equipment, firearms, knives, military vehicles and helicopters. The equipment must be able to sustain and endure harsh conditions, which makes laser marking the preferred method to apply marking to parts.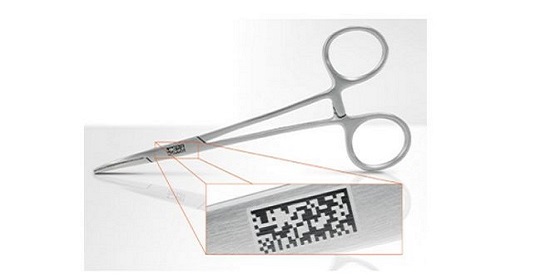 Medical products. Since the Food and Drug Association (FDA) adopted a new rule for the identification of medical products and made the marking of all devices with a unique device identifier mandatory, the majority of medical devices and parts require marking. When it comes to implants such as bone plates or hip stems, or invasive surgical tools and devices such as catheters or minimally invasive instruments, medical device manufacturers have to mark 100 percent of their products.

"Manufacturers have to guarantee that the marks on their parts are completely readable and traceable all along their life cycle: from the manufacturing site where the device was produced to the operating room where the device is used or implanted on a patient," notes Tom Goodnow, product manager for FOBA Laser Marking and Engraving. "Medical manufacturers have to ensure that the correct information is marked on the correct part in the right location and that this identifying information is legible at any time."

The table below indicates a few of the main sectors where a global implementation of laser marking has occurred:


Table 1 Industries that have or will implement global marking standars
| Industry | Primary Verification Standard |
| --- | --- |
| Aerospace | SAE AS9132 |
| Automotive | AIM DPM-1-2006 |
| Defense DOD | MIL SPEC 130 |
| Electronic Componets | EIA 706 |
| Medical Devices | Awaiting specification |
"Laser cutting systems are growing in popularity and awareness for smaller companies," says TS McCue, Forbes contributor. "If you have wanted to prototype your own creations, a laser cutter may help. If you don't want to purchase one, you could join an area makerspace or pay a service to custom-make something for you."

Making your mark?

Laser marking is a valuable addition to your manufacturing capabilities. With our in-house Apple LaserMark, we have the expertise, service and support to meet your laser marking needs. Connect with us on Twitter @AppleRubber, register for free engineering help and literature requests or contact our team of experts.