Your Trusted Medical Partner
Apple Rubber understands the medical industry's need for precision, dependability, and adherence to the highest standards. If the success or failure of a life-saving medication, vaccine, medical material, or piece of equipment depends on the effectiveness of a single sealing device, failure isn't an option.
What makes us a trusted medical industry partner.
Above all, Apple Rubber's engineers are constantly working to provide higher quality products, better testing, and more thorough documentation.
Our dedication to quality is why the design engineers at Apple Rubber are available to work one-on-one with our medical industry customers from design and prototype to production and testing. By providing expert help at every stage of the process, our engineers are able to develop strong, reliable medical seals and devices that meet the demands of medical environments.
What we provide to customers in the medical industry.
All medical-grade elastomers at Apple Rubber are tested to FDA USP Class VI or ISO 10993 protocols. The elastomers we use feature improved chemical resistance, excellent heat resistance, and are compatible with different sterilization techniques. In addition to these offerings, Apple Rubber is proud to provide the following, all from our US facility:
50 years of industry-specific engineering expertise
Proficiency in polymer science and mold design
In-house capabilities including a Class 10000 ISO-07 Clean Room, LSR, and extensive medical-grade O-ring inventory
3D CAD and CAM technology in design and prototyping
Assistance across every stage, from concept to seal validation
Quality documentation spanning First Article to full IQOQPQ
Our medical parts and seals are trusted by medical experts for use in countless pieces of life saving equipment, including:
Ventilators
Medical testing consumables
Medical pump seals
IV components
Feeding devices
Implant materials
Download Our Whitepaper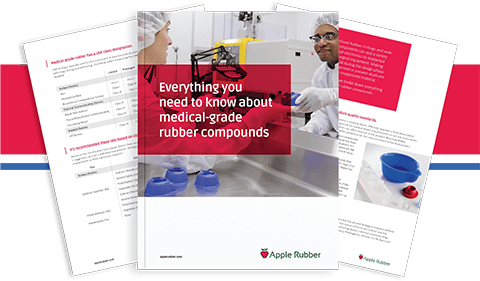 Download