Apple Rubber does more. Apple Rubber Products Inc.® is a leading designer and manufacturer of o-rings, rubber seals, and custom sealing devices. Whether you need a standard AS568 rubber o-ring, a complex Liquid Silicone Rubber (LSR) prototype seal or medical-grade seals and parts, we have the sealing capabilities to deliver the sealing solution you need.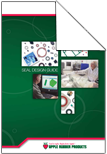 This online guide provides the basic concepts of o-ring design.
This includes seal types and gland design, critical operating environmental factors, material selection, size charts, troubleshooting, and ordering procedures.
Visit our Online Seal Design Guide
Raleigh Design2Part Show
November 19-20, 2014
-
Raleigh, NC
Booth #135
MedTechWorld BIOMEDevice
December 3-4, 2014
-
San Jose, CA
Booth #227
MD&M West ( Medical Design & Mfg West)
February 10-12, 2015
-
Anaheim CA
Booth #1857