Standard and Non-Standard Sizes
Apple Rubber offers a direct approach to purchasing o-rings from one of the largest inventories in the sealing industry. If we don't have it, we can make it. In-house tooling and manufacturing allow us to expedite tooling and delivery.
Benefits of our inventory
AS568 and ISO 3601 standard sizes
Hardness range from 10 to 90 Shore A durometer
8,000 different non-standard sizes
MicroOrings® for inner diameters less than 0.036" or 1 millimeter
Provide USA made product upon request
We can assure immediate delivery of most sizes in large or small quantities.
Call out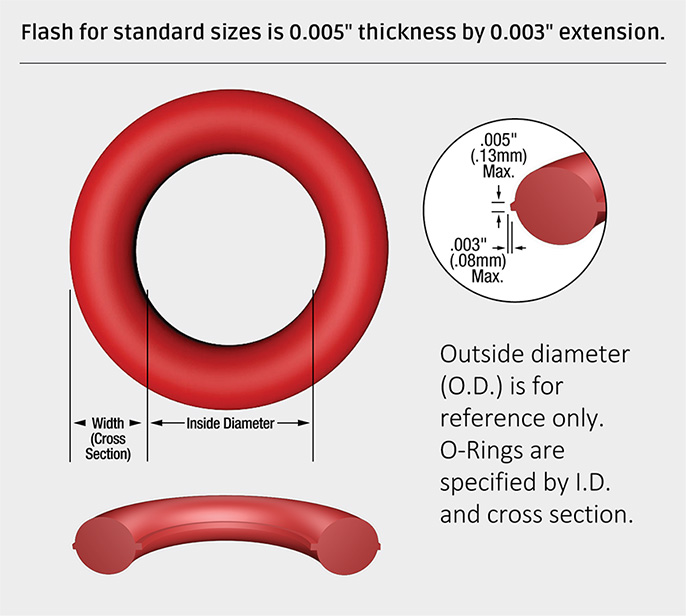 O-Rings are typically called out by the inner diameter of the torus and the diameter of the round cross-section. Thus, for an AS568-010 size 70 shore A, Nitrile would be: 0.239 x 0.070 70 BN
O-Ring Sizing Guides
For standard sizes, aerospace standard AS568 and ISO 3601 for metric sizes are used to give the dimension and tolerance. These are the sizes that are most readily available. Since new designs should also try to incorporate these sizes, we offer groove design tools for static and dynamic applications.
Easy to Order, Fastest Delivery
When you are ready to get started, submit an online RFQ to receive a quote from our dedicated sales team within 24 hours. The size and compound you require is most likely in our inventory of over 300 million o-rings. You'll receive immediate shipments with no intermediate delays. Remember, with Apple Rubber, you buy direct.
The Right Material for Any Application
We offer the following six standard rubber materials in a range of durometer (Shore A) hardness to satisfy practically any service condition. These materials are most common, but we do offer the ability to provide custom compounds of most rubber elastomer types:
1

Good

2

Fair

3

Questionable

4

Poor

Material
Common Name
ASTM D1418
ASTM D2000 Class
Standard Temperature Range (°F)
Special Temperature Range (°F)
Petroleum Fluids
Ozone
Resistance Weather (UV)
Vacuum
Compression Set
Resilience
Special Applications
Nitrile
Buna-N
NBR
BG
-40 to +257
-76 to +275
1
4
4
2
1
2
Hydrogenated Nitrile (HNBR) improves ozone and weather resistance
Fluorocarbon
Viton™
FKM
HK
-13 to +446
-31 to +446
1
1
1
1
1
1
Custom compounds improve chemical and low-temperature resistance.
Ethylene-Propylene
EPDM
EP
BA
-40 to +275
4
4
4
2
2
2
Good for water, steam, solvents and acids
Silicone
Silicone
VMQ
GE
-85 to +400
-148 to +400
3
1
1
4
1
2
Popular for food and medical applications
Fluorosilicone
Fluorosilicone
FVMQ
FK
-75 to +400
1
1
1
3
1
2
Low outgassing, used in military and aerospace applications
Chloroprene
Neoprene®
CR
BC
-40 to +250
General Purpose
2
2
2
2
2
2
Used in refrigerations industry for resistance to ammonia and Freon®
Let us know if you require materials to meet the following standards; UL, MIL, AMS, ASTM, Food Grade (FDA 21 CFR 177.2600 compliant), Medical Grades (FDA USP Class VI or ISO 10993). We have many special compounds that can meet the specification you are looking for.
Need help choosing an o-ring material? Try our new, Interactive Material Selection Guide. For assistance with o-ring size or material selection, contact us today.
*Note: Please check the latest standard for current revision. We highly recommend that in all cases, samples of a specific size and compound should be tested in the application before use in production.