The Environmental Protection Agency defines sustainable manufacturing as "the creation of products through economically sound processes that minimize negative environmental impacts while conserving energy and natural resources."
Call it going green, eco-friendly or environmentally conscious, a significant number of manufacturers are realizing the benefits of sustainable business practices – and are committed to doing their part.
Why Sustainability Matters
Eric Mittelstadt, Chief Executive Officer of the National Council for Advanced Manufacturing (NACFAM) believes green jobs and sustainability in today's workforce are critical for our future.
"We believe," Mittelstadt says, "sustainable manufacturing is the key emerging paradigm for 21st century manufacturing, and is the major one in which U.S. manufacturing must excel to retain and grow our nation's manufacturing competitiveness in the global economy."
The Benefits of Sustainable Manufacturing
1. Sustainability reduces environmental, health and safety impacts. Manufacturing plants can increase operation efficiency by reducing costs and wastes, and resource footprint.
2. Sustainability enhances competitiveness. A U.S. Environmental Protection Agency survey reports that two-thirds of nearly 3,000 company officials believe that sustainability is critically important to being competitive in today's marketplace.
3. Sustainability saves money. Sustainability reduces packaging materials, minimizes transportation costs and encourages energy-efficient lighting. These efforts can ultimately lead to lower resource and production costs as well as improved sales.
Sustainability Products and Practices
In a 2014 Nielsen study, 55 percent of global respondents said they would be willing to pay a higher cost for products and services from companies committed to having a positive impact on social and environmental issues.

For manufacturers, this positive impact involves two issues: the production of sustainable products and the sustainable manufacturing of all products.

Products
Take, for example, DuPont — a company developing innovative bioscience solutions to sustain the needs of our growing population. The company's bio-based materials use renewable plant sources to reduce the use of petroleum-based materials. They've recently developed a sustainable plastic — Sorona EP® — that contains 20 to 37 percent renewable material from non-food biomass, which is a breakthrough in biopolymer performance. It will reduce fossil fuel use, without reducing performance.
Practices
Sustainability may not always be found directly in the products, but rather, the practices. An ASSEMBLY Magazine study reports that 55 percent of professionals in plastic and rubber manufacturing are actively engaged in various types of green initiatives — pursuing energy-efficient lighting, landfill gas, recycling, reusable shipping containers, solar panels and wind turbines.
Johnson & Johnson, for example, improved sustainability efforts in operating rooms with the launch of the Harmonic Focus + Shears with Adaptive Tissue Technology. The product reduced device material by 25 percent and packaging by 22 percent, decreasing the hazardous waste of hospitals by six pounds per every 100 devices.
"This product illustrates the notion that sustainability can be a huge driver of product innovation leading to new and increased revenues as this one has,"says Karin Bergqvist, marketing manager with Ethicon, part of the Johnson & Johnson family of companies. "This aspect of sustainability is often overlooked and is a great advance in medical device technology."
Sustainability Efforts at Apple Rubber
Apple Rubber is currently looking into bio-based rubber for automotive applications. This EPDM rubber, KELTAN® Eco, uses Brazilian sugar cane to produce ethanol, which becomes the building block to create the polymer.
This sustainable alternative would:
Lower carbon footprint and improve energy balance
Have zero compromises on quality
Use less than one percent of the country's total area and maximize potential for reducing greenhouse gases
The below image shows the vast difference between the KELTAN® Eco and conventional EPDM: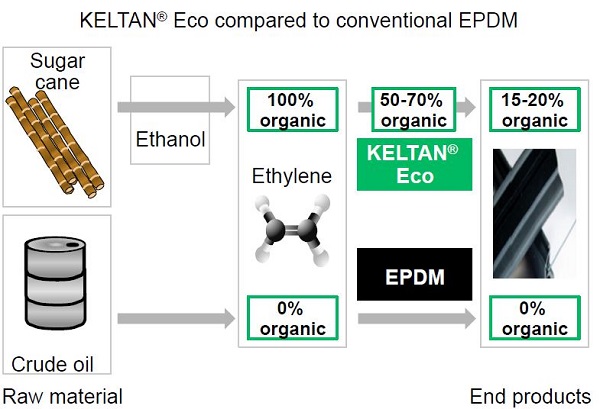 "Oil is the major driver for the rubber industry," notes John Tranquilli, materials manager at Apple Rubber.  "It can be found in polymers, plasticizers and fillers. As we have seen huge price swings in oil, this has greatly changed the price of rubber compounds. Finding sustainable alternatives will not only help price control, but will limit the footprint of the entire rubber industry."
How have you and your organization helped the greener future of manufacturing? We'd love to hear your thoughts on twitter @AppleRubber.