Apple Rubber is the leading manufacturer and supplier of standard and non-standard sized o-rings. With over 7,000 different o-ring sizes available in stock, we have become the first choice source in the industry.  Apple Rubber is also dedicated to helping Engineers with the tools needed to design hardware components for their sealing applications.
We recently released our newest design tool on our website, the Axial (Face) Seal Gland Calculator. This tool will guide you in the recommended design of o-ring and gland dimensions needed for axial o-ring applications, such as bolted flange, housing lid and manifold face seal designs.
How to Use It
With this tool, you can insert your specific measurements to calculate the gland details. Start by clarifying if your application requires internal or external pressure. This will ensure the recommended o-ring seal is located against the gland wall of the low pressure side. The user will select units in inches or millimeters. Standard o-ring sizes are then available from a drop-down list; AS568 or ISO 3601, depending on the units selected. There is also the option for users to input a custom size o-ring by entering the inside diameter and cross-section individually.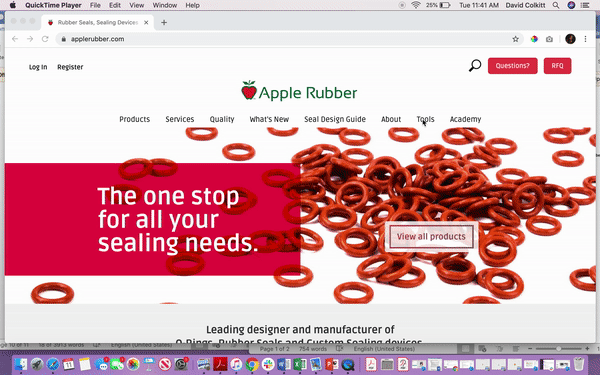 After inputting the information, the Axial Seal Tool will provide the recommended hardware dimensions and calculated results for minimum and maximum squeeze in percentages and inches, volume fill, o-ring outside diameter interference and inside diameter. This information should give you a better understanding of the measurements you need for your application. 
The tool also provides the user the ability to adjust hardware dimensions and tolerances to match their actual application.  The calculated results will help the user apply an o-ring that will meet the recommended range of squeeze and volume fill.  The recommended percent squeeze for static axial o-ring applications is between 10% and 40%.  It is important to note that rubber acts as an incompressible fluid, therefore, the o-ring volume should never be greater than the gland void.  For this reason, it is recommended that the maximum volume fill not be greater than 90%.  The calculator will flag any results that may be out of the recommended ranges. 
In the O-Ring Gland Calculator, you can easily switch between the Axial Seal Tool and the Radial Seal Tool, depending on the static seal measurements you need.  The Axial Seal Gland Calculator is another tool provided by Apple Rubber to assist engineers, designers, and those with minimal technical background to confidently design o-rings as a sealing solution.
Apple Rubber is always looking for ways to improve our tools and resources. Be sure to fill in our feedback form to let us know what you think of the new tool.